Hello, I have something seemingly simple in my game but it's giving me a ton of problems.
You can enter a spirit mode, where you can interest with other spirit objects.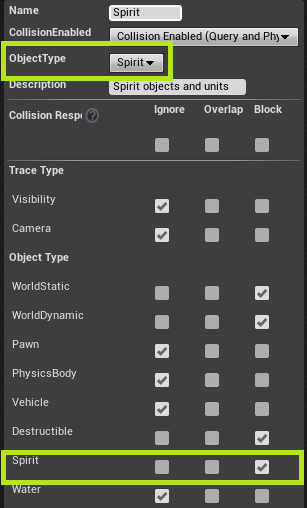 This works perfectly fine for regular collisions, spirits interact with other spirits, but I can't get it working in C++ traces, they seem to ignore these presets completely.
These two are auto-generated in my DefaultEngine.ini

+DefaultChannelResponses=(Channel=ECC_GameTraceChannel1,Name="Spirit",DefaultResponse=ECR_Block,bTraceType=False,bStaticObject=False)
+DefaultChannelResponses=(Channel=ECC_GameTraceChannel2,Name="Water",DefaultResponse=ECR_Ignore,bTraceType=False,bStaticObject=False)


But using ECC_GameTraceChannel1 never detects the spirit objects in game.
I thought it was tied to the Collision preset, but it looks ECC_GameTraceChannel1 is tied to the Spirit and Water object channels I added… If so, how can I get the proper collision presets?
I've looked all over online but can't seem to figure this thing out. Any info would be greatly appreciated!
Thanks!