Hi everyone,
I consistently find it a pain to have to follow a separate workflow for creating and using materials for landscape, and general use. In other engines, there is no distinction, and you can simply drag materials/textures into slots on the landscape. Not so in UE4. There are large free materials libraries, none of which can be used directly. You have to do a whole copy-paste-fix ritual in order to get them to work with landscapes.
I have no idea how other people can stand this, but I wrote a plugin to solve it: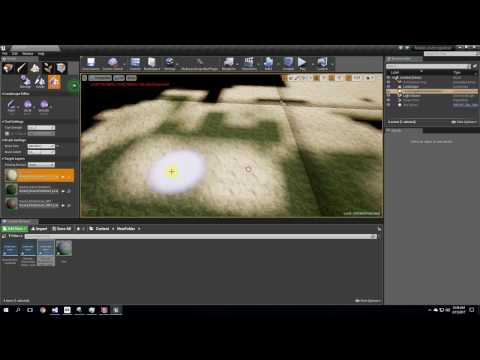 The example shows me using the free Game Textures Materials Pack (available on the Asset Store as well as GameTextures.com).
DETAILS:
The plugin uses "existing" materials, so the instruction count and optimization is the same as the original materials. The plugin doesn't add any extra fluff (nodes/instructions) other than the LandscapeLayerBlend and LandscapeLayerCoord nodes to connect them all together. Its equivalent to manually going into each material, copy-pasting each of the materials contents into one large material, and connecting them all up via the layerblend and layercoord nodes. Therefore, it works with any type of landscape that your original materials can.
I will put it on the Asset Store if there is enough interest.
Sajid