ConfigBP is an easy to use blueprint library for working with configuration files!
Available on the marketplace for a mere $4.99!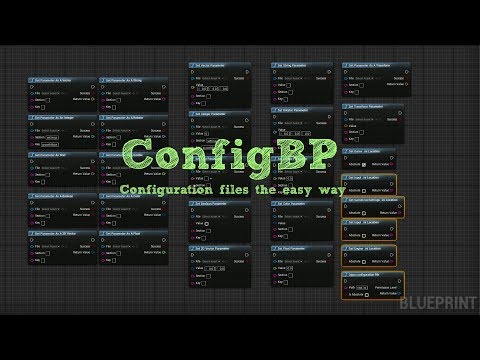 What is it?
ConfigBP Allows You To Easily Read And Write 11 Different Data Types From Any Configuration File, Including Engine Files (Like Scalability.ini & Game.ini).
Which Features Does It Have?
Open Config File (accepts a relative & absolute path)
(4.18) (Linux/Windows) Dedicated Server Support
Read & Write as
Integer
Double
Float
Text
String
Color
Boolean
Vector
2D Vector
Transform
Rotator
Access to standard .ini files
Game.ini
Scalability.ini
Input.ini
GameUserSettings.ini
Engine.ini
Open configuration files (using an absolute or relative path)
FAQ
Where Can I Find The Documentation?
They're included in the Docs/ folder and are available here: https://docs.google.com/document/d/1…f-TXLOMM6zzzME
Where Can I Get ConfigBP?
ConfigBP Is Avialable On The Unreal Engine Marketplace. Find It Here: ConfigBP - Configure Your Game in Code Plugins - UE Marketplace
Do you have any feature requests or questions? Don't be afraid to ask by leaving a reply or contacting me at [EMAIL="howtocompute123@gmail.com"]howtocompute123@gmail.com!