Character Customization provide you the possibility to customize your character in depth with things like (skin tones, head morph, hair, beard, hair color, eye color, cloth, etc).
This marketplace is created in order to be integrated easily in any of your project, this is all made with blueprint and comes with clear comment.
Can be used as a base project or integrated according to your criteria.
                                                    PRESENTATION VIDEO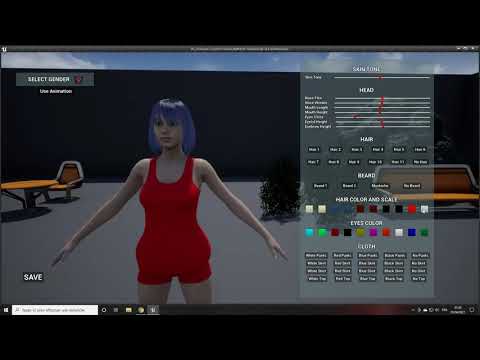 Features:
Ready to use character customization system in BLUEPRINT with MALE and FEMALE character !
Work with every projects.
A lot of customization possibilities.
Large skin tones.
7 heads morph-target.
12 hairs ( long , semi-long, short, semi-short )
2 beards and 1 mustache.
Change hairs colors and hairs scales.
Change eyes colors.
Cloths system with 2 pants and 2 tops for each character. Each cloth come with 4 differents colors.
Save system that permit to save and load your character at each game sessions.
Optimized : 5 levels of LOD'S for each character and each cloth, every texture is imported to 4096 x 4096 and set to 1024 x 1024.
1 Ambient Loop Music
Future Features : Multiplayer Replication, Cloth Simulations ( Open to suggestion ).