Hey Unreal Devs,
Thank you for checking out the game, we've been hard at work on creating a fun multiplayer last man standing shooter with special abilities. I've been working with Unreal for a few years now and I just love the tool.
If you have any questions or comments, please post them here.
We are currently on steam greenlight and kickstarter, if you could support us, that would mean the world to us:

](https://www.kickstarter.com/projects/736602014/beam-extreme?ref=card)
](http://steamcommunity.com/sharedfiles/filedetails/?id=718771408)
Sequencer:
I was able to make the announcement trailer for our game using the new sequencer tool that came with Unreal Engine 4.12. It's definitely an amazing tool of which i've only scratched the surface.
Hopefully I get to do more with it in the future!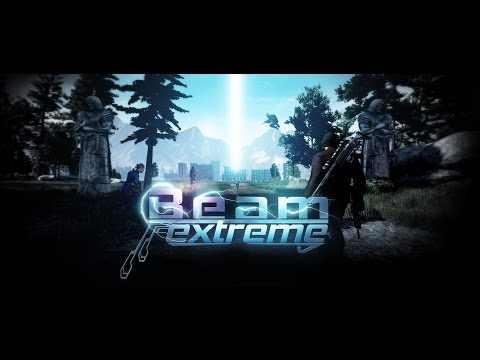 **Demo:
If you are wondering how the game will feel and play, check out the demo below.
If you would like to test the game with other people as well, make sure to keep an eye on the play-session planned for thursday: https://www.facebook.com/events/597567647084423/ **
http://imgur.com/Vi7R76e.png
Beam Extreme is an intense, last man standing shooter, featuring insane special abilities, an arsenal of powerful weapons and the option to play from both a third or first person perspective. The current design of Beam Extreme will allow for 32 players to face off in frantic, massive battles in outdoor, arena style maps. Beam Extreme will test one's ability to make clever use of the game's unique abilities and weapons, as well as to take advantage of diverse and dynamic level design in order to be the last man standing.
32 players: Outsmart the other 31 opponents in awesome battles to be the last man standing. As the playable space becomes smaller you are forced towards the center of the map.
Large maps: When spawning in the map you will find yourself in a circle with seven other contestants with high end loot at the center. This happens on four places on the map. The ones that make it past the intense spawn will later face the contestants of the other spawns. Currently we have one map in production, but we definitely want to do more with their own unique twists.
Abilities: Beam extreme will feature special abilities that you can tactically make use of in combat. Currently we have four special abilities available. These include a sprint boost, a jump boost, a dash teleport and a healing ability. (read more on those down below).
Clear communication: We want the players to spend a minimal amount of time looking at extra information on the screen, that's why we try to keep all information on screen in a minimalistic way. We don't have any sub-menus the players have to look at when in game.
Player feedback: Besides keeping the on-screen information to a minimum we are also aware of the frustration that often comes with combat in this genre. We want to avoid frustrating deaths and communicate clearly when you are hitting someone.
Character customization: We already have a first version of character customization in. In beam extreme you will be able to select a character and in some cases a skin for the character as well.
A wide range of different weapons: Beam Extreme will offer a lot of different weapons, from simple assault rifles to grenade launchers. We are looking at adding more in the future, but it's already good fun.
**Playing the game **
**Lobby map: **
When joining a server you are transported to a lobby map. Here you will have the chance to kill other players in a casual and chaotic death-match style meta-game, allowing for respawns so you can adequately prepare for the main last man standing mode. In the lobby map you will find many of the special abilities and weapons generously scattered around the map, and you will be able experiment with different ability and weapon combinations before moving onto the main game mode. If 32 players join into the lobby, they are transported to the last man standing map.
**Last man standing **
When spawning in the map you will find yourself in a circle with seven other contestants with high end loot at the center. This happens on 4 places on the map. You can choose to go for this loot or run off and look for supplies in the surrounding area.
After a few minutes, smoke will close in on the center of the map and you will be forced to make your way there. You will have to scavenge for weapons and abilities and then make sure to use them properly in combat. If you want to have a chance at winning.
If you manage to out-live and kill your opponents, you will be the last man standing!
We hope you like our idea for the game and we hope you are as enthusiastic as we are!
Please vote yes and make sure to follow development!
Also check out the Kickstarter page, even if you don't want to support us, there is a lot more information on the game over there!
-Tim van Kan
[Founder of TiMer games]
You can also follow the website: www.BeamExtreme.com
Follow us on social media:
Reddit: https://www.reddit.com/r/BeamExtreme/
Twitter: https://twitter.com/BeamExtremeGame
Facebook: https://www.facebook.com/BeamExtreme/
http://i.imgur.com/79qvhfi.png