Brain-Computer-Interface Dev-Kit for Unreal Engine 4
❉
Features:
Fully open-source and customizable Brain-Computer-Interface for UE4
Different levels of depth for usage: C++, Blueprint, optional GUI (for easier access)
Compatible with nearly all available hardware via openvibe
Compatible with multiple Acquisition Software Packages (ranging from consumer to professional research products)
Focus on transparency and customizability
Focus on simplicity and versatility, as far as technologies allow us
Signal Generation for Simulated Inputs
For experimentation, research, education, game design, art, training,
…
❉
Compatible Software:
OpenVibe is "a software platform dedicated to designing, testing and using brain-computer interfaces". It covers the signal-processing and can be very powerful. The community can be found in the OpenVibe Forum.
Please note: The preprocessing of signals is done with the EEG-Acquisition Software and is not done with our UE4-BCI-Interface. However, any signal can further be processed and used within Unreal Engine. To capture and export signals from UE4, take a look at our Data Tracker and Visualization Plugin. In general, please act responsibly!
❉
UE4-BCI-Plugin Example:
Download ExampleMap (241 MB)
❉
❉
Introduction Video: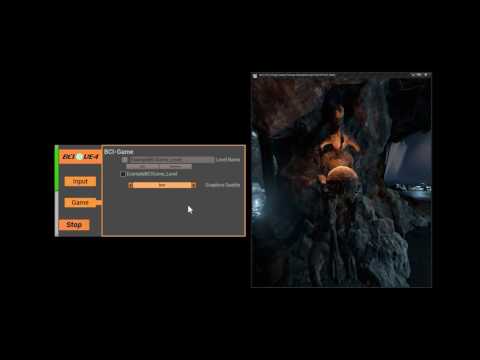 ❉
Community Projects and Customers:
[UE4] BCITreeShadow by Bryan Zhu
Art Project for the Guangzhou Academy of Fine Arts
(he also made a nice documentationon / tutorial on the project)

Brain computer interface (BCI) generated music in Games by Richard Smith
School of Design and Informatics Abertay University. [In progress. Draft]
❉
Communication Channel:
Thauros-Development ✧@✧ outlook.com
If you are a student or you simply want to do something awesome with our plugin,
but you can't afford it, feel free to get in contact with us