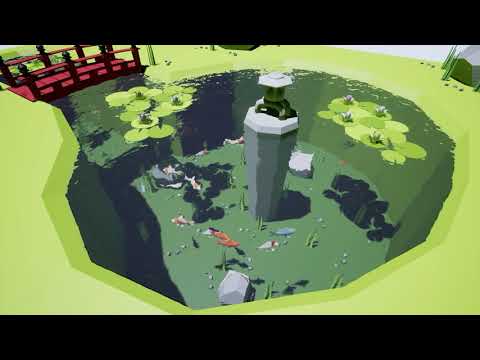 NOW AVAILABLE!!!
DESCRIPTION
Demostration Video: Animated Pond Fish - Unreal Engine Marketplace - YouTube
Animation Fish: Animated Pond Fish - Fish animation - YouTube
Use your own fish model: Animated Pond Fish - Tutorial How to use your own fish models - YouTube
Use the fishes of this asset to simulate a pond in your video game. Also, other objects are included such as a bridge, different stones, grass, and a little statue.
This fishes are made with a cartoon style but if you have your own fish model rigged and animated, you can use it too.
Remember, this asset was never done thinking about doing something realistic, it was made with a cartoon style, but there are some characteristics, which are important to simulate some reality. This asset is made to simulate a pond and (usually) a pond has a minimum of measures. So, if your pond is too small (or there are a lot of fishes) you'll make the collision calculation much less efficient with the correct pathfinder. You can watch the videos to check if the model and the animation suits your video game. If you have a fish model rigged and animated, you can change the fish too.
Moreover, we advise a minimum of height in your pond. If you do that, you can add more fishes in different heights and your pond will seem more crowded and the effect will be better and cooler. You don't need to do a pond as big as our demo, of course, but it has to exist in coherent measures between the space of your pond and the number of fishes.
TECHNICAL DETAILS
Maps: 1 map
[1] Demonstration Map
[1] Objects Map
Objects:
[5] Fishes
[1] Water
[1] Pond
[1] Bridge
[3] Rocks
[1] Stones
[1] Statue
[2] Grass
[3] Water lily
Engine Version: 4.15 or Higher
Platform: Windows, MAC
LODs: 0
Scaled to Epic skeleton: Yes
Rigged: Yes
Animated: Yes
Vertex counts: 76 - 8593
Number of Meshes: 15 Items
Collision: Yes (Automatically Generated)
Number of Master Materials: 12 Materials
Number of Variations: 17 Items
Number of Textures: 12 Textures
I hope you like it!