Hello everyone,
we are developers of aMAZEing adventures and just recently we have released our game on Steam as Early Access. Our game is supposed to be family friendy, simple but fun take on classic maze games with touch of action and adventure. With advantage of VR the players can take mazes in their hands and use headset to peak behind corners and walls.
We have released first section of the game out of four that will be in final release. The game contains 15+3 mazes at the moment. With regular updates we would like to go up to 70+ unique mazes.
At the moment we we have full support for HTC Vive but we are already working on Oculus support with more platforms to be added in the future.
http://store.steampowered.com/app/552870/
aMAZEing adventures is addictive game for VR where your goal is to guide your ball through many varied mazes specially designed for each level. Using your motion controllers you have to hold the maze in your hands and tilt the maze to keep your ball moving but also at the same time to avoid many threats inside. Your Virtual Reality headset will allow you to peek behind corners and look around.
Be as precise as needed or as fast as you can. Every level needs your focus. Inside the mazes you can find some useful items that will help you go through many obstacles. But beware! There are traps and some moving things as well! Avoid these as they will stop your ball or slow you down.
Features:
Mazes - Every level features unique maze design.

Puzzles - Solve puzzles, collect items and avoid traps to successfully go through the maze.


Environments - On your adventure you will travel to exiting environments specifically designed for each section.


Enemies - Many mazes feature special type of enemy that can move around.


Final levels - At the end of each section there is a special minigame.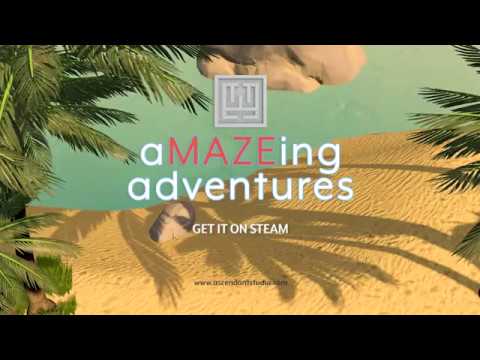 official site:
http://www.ascendantstudio.com/amaze...ntures-for-vr/
Please take a look at what we have done so far. We would be very happy for any feedback so we can improve the gameplay. If there is anyone interested in making a review of the game for online magazine/video please get in touch with us.
Thanks.
Cheers,
ASC