[HR][/HR]
Like our pack? You can vote for it in the January community poll! https://docs.google.com/a/epicgames.com/forms/d/e/1FAIpQLSdrhXfEExvh2SqrLLYXfCE0MQSiB1o27DdBQUroGHUenqfJCQ/viewform
Hello everyone!
We're happy to announce our 7th Unreal Engine Marketplace pack: Player Stats Kit!
Release on Itch.IO: https://pandastudios.itch.io/player-stats-kit
Release on Marketplace:https://www.unrealengine.com/marketplace/player-stats-kit
Do you want to track gameplay? Such as shots fired, distance walked, K/D ratio, accuracy percentage and much more? Look no further as we've got you covered!
The Player stats Kit features 6 different statistics: General Stat(560 Kills), Per minute stats(Healing per Min. = 578), Average stats(Average healing done: 897), Percentage stats(86% Accuracy), Ratio stats(1.2 K/D Ratio) and time stats(Gametime = 6h)
Feature list:
Track gameplay
General stats
Per Minute Stats
Average Stats
Percentage Stats
Ratio Stats
Total time stats
Reset stats
Different left and right ratio (1 = 0.5 alpha and 5 = 1.0 alpha)
Generate random stats
Store skill rating
Master color(Change all colors with a vector collection parameter)
Handy and modern UI!
Price: $18.99(Itch.io) - $19.99 (UE4 Marketplace)
Trailer: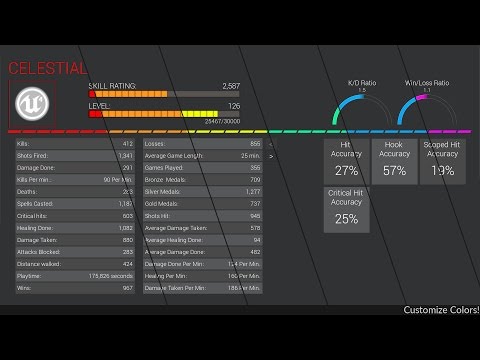 Integration tutorial: https://docs.google.com/document/d/1pUtN9WNST0nu1vghUeFxnupTsOzXKGmhkos_Ubu9oOE/edit?usp=sharing
Setup stats and functions: https://docs.google.com/document/d/18XE8_TbpEPX4yC3JCdoQ6XSpy2wJI7brgQrAWm-jj4Y/edit?usp=sharing
More information will be soon!
More Screenshots:
[Spoiler]
[/Spoiler]