VEHICLE SOCCER TEMPLATE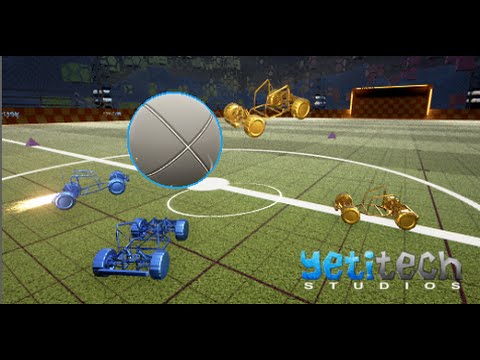 Download Demo Game v1.2
Purchase
Description:
Vehicle Soccer Template is a 100% Blueprint powered template designed to help you learn and get you started in making multiplayer vehicle soccer games. All Blueprints are fully commented so you can easily edit and add new features as you see fit. This template supports LAN play with 1v1 to 5v5 players and includes hosting a new server, server list and lobby where all players are connected before moving to the main game.
•Multiplayer: 1 vs 1 - 5 vs 5
•Countdown timer
•Overtime
•Lobby system
•LAN
•Scoreboard
•Jumping/Handbrake
•Boost
•Ability to toggle ball cam
•In-Game Tv Screen that show live gameplay
•In-Game chat system
Technical Description:
Blueprints:
•Ball Blueprint
•Vehicle Blueprint
•Goalpost Blueprint
•Vehicle Boost Blueprint
•Various Widget Blueprints for Mainmenu, Lobby, Pausemenu, PlayerHUD etc.
•Score screen that shows players with the number of goals they scored
•Widget Component with team color that will hover on top of players
Materials:
•Post process material for highlighting ball
Level:
•Overview
•Main Menu
•Lobby
Textures:
•Tileable Mask Grid Texture
Audio:
•
Ball Hit
•
Boost
Change Log:
v1.1
* Fix for a rare issue where vehicle will refuse to reset/flip while upside down.
v1.2
* Updated to 4.13
* Added in-game chat system
* Added in-game TV screen that shows live gameplay
* Fixed issues with player spawning
* Refactored player spawning (New player spawning logic is more simpler and expandable)
* Removed ShowLoadingScreen in Begin Play from BP_SoccerPlayerController
* Removed InitStartSpot in BP_SoccerGameMode
* Removed ServerSetTeam function from BP_SoccerPlayerState
* Removed ServerInitializePlayer from VehicleBlueprint
* Removed ClientHideLoadingScreen from VehicleBlueprint
* Renamed LeaveGameFromMatch function (in BP_GameInstance) to LeaveGame
* Setting up PlayerName and Material has been moved to Event Possessed inside VehicleBlueprint