Hey everyone! I've been making an AI toolkit for you all.
Generic AI Behavior Toolkit
is a plug-and-play, highly customizable, and easy to use AI Behavior system to create believable AI characters.
Features:
Easily create and modify dynamic AI Behaviors
Includes 10 AI Behaviors ready to use (Idle, Follow, Flee, Patrol, Seek, Attack Melee, Attack Ranged, Defend, Hit, Investigate)
Create any type of NPCs ranging from Civilians, to Companions, to Enemies and even Badass Bosses!
Easy to integrate with it's plug-and-play nature. Just add a component!
Includes 7 Triggers (Sight, Sound, Tags, Delay, WithinDistance, BeyondDistance, Health)
High levels of control and flexibility to meet your project's needs
Easily extend or create your own AI Behaviors and Triggers
Add animations and audio with ease!
Create believable and living worlds using Workspaces Actor
Blueprints and Behavior Tree based
Built-in health and damage system
Multiplayer compatible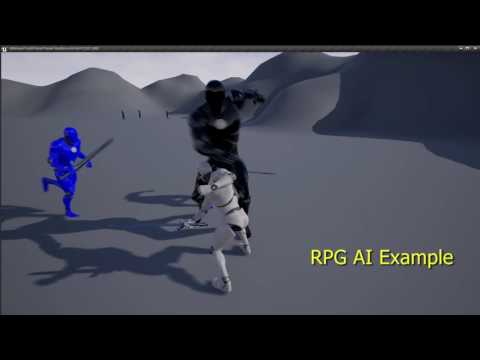 Tons of options are available to the user for more control and dynamism in your AI.
Options such as Movement speed, Triggers, Delays, Animations, etc. are readily available to you.
The AI Behaviors are easy to integrate into existing projects. Just add our simple component to any Character to bring it to life!
Interact with the AI using different triggers and easily create your own.
Add your own animations and audio for use by the AI.
Changelists: