Survivor Vision is now available on the UE4 Marketplace! CLICK HERE to view.
Survivor Vision is now available on Gumroad! CLICK HERE to view.
Survivor Vision is now available on itch.io! CLICK HERE to view.
INTRODUCTION
Survivor vision is an
incredibly versatile
and
adjustable
effect used to reveal more information, secrets and items to the player. It has many different applications and is incredibly
easy to set up, customise and plug in to your project
.
DETAILS
Targeted Price:
$24.99
Release Date:
July 6th, 2016
Survivor Vision allows designers to reveal information to the player in an
interesting
and special way. Players activate their survivor vision and get a special ability to peer into the depths of the game world, uncovering it's secrets. This sort of effect is used in many big-budget titles and has become a staple mechanic of the action/adventure genre, as well as many other pockets of the gaming industry.
Completely customisable
, the effect is incredibly easy to set up. Just drop the component blueprint into your character, along with a couple of basic UE4 components (triggers and volumes -
all explained in the tutorial
) and set up your controls! It's that simple. Want to make the effect your own? Change the colours, outlines, fill texture, item indicators, etc? Couldn't be easier! With more settings than you ever need, there are literally
THOUSANDS
of different effect combinations you can create, and even multiple groups of effects (3 by default - but easily expandable to include more).
Use this tool to direct your players through complicated puzzles, help them stealth through your game, or just enhance the environmental story telling. With fully commented blueprints and materials, you'll have the perfect effect for your game set up in no time!
SCREENSHOTS
Click on the thumbnails for the full screenshot (opens in new tab).
VIDEOS
Launch Trailer: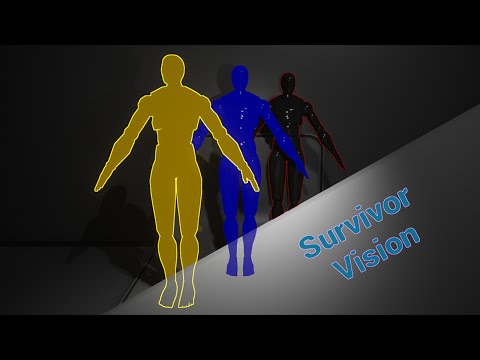 PLAYABLE BUILD
Windows 64 (81mb - 7z file):
Download Link
LINKS
My YouTube Channel
Dapper Raptor Website
Survivor Vision Channel in Dapper Raptor Discord Server