OBJECTIVE WAYPOINT SYSTEM
Objective Waypoint System that finds the shortest path to the Objective Actor
Objective Waypoint System offers you two different modes.
Spawn Mode:
Spawn Mode lets you spawn Waypoint Actors from Character location to Objective Actor. You can define how many meshes to spawn and the distance between each mesh.
Spline Mode:
Spline Mode lets you draw a Spline from Character location to Objective Actor.
Both Modes support constant update at given intervals as you move the character and the Waypoint System will always try to find the shortest path from Character to Objective Actor. You can also set the Waypoint System to specific Navigation Query Classes.
Blueprints:
*Waypoint Actor Component
*Custom Enum to select between 2 Waypoint modes
*Ability to find waypoint to world location from minimap
*Objective Actor
*Waypoint Actor
Level:
*Example Maze Level
Textures:
*Tileable Mask Texture
Changelog v1.2
* Added shortcut key for toggling Minimap (Default: E)
* Added a text on HUD that shows how to activate the existing waypoint
Changelog v1.3
*Added multiplayer support out of the box
*Objective Actor will now be set dynamically (if not assigned) in-game (See FindPathToActor in ThirdPersonCharacter Blueprint)
*Renamed private functions with Internal_* prefix
*Fixed incorrect rotation of some waypoints at corners
*Fixed minimap path finding not working properly
*Fixed incorrect objective marker position in non-native screen resolutions
Changelog v1.4
*ClientPathFind takes array as reference
Changelog v1.5
* Fixed waypoints spawning together when getting closer to target.
* Removed bobbing timeline animation from Blueprints. This is now a shader effect.
Purchase
*Please Note. We will have minor price increments for future updates so purchase while the price is low.
Objective Waypoint System v1.0 [Preview]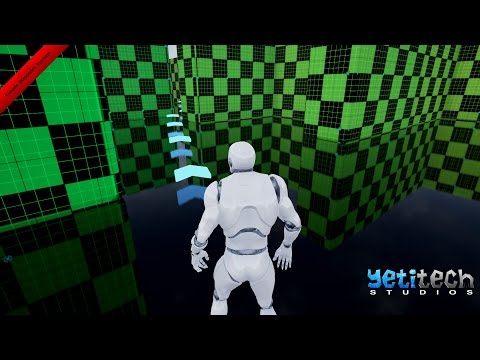 Objective Waypoint System v1.1 [Update #2]