Created by: Robviously
Marketplace link: [Mount and Taming BP]
Support Email: thelonepioneer@mail.com
#Slack:

The Lone Pioneer



---
Mount and Taming blueprints - THIRD PERSON Overview Video:
Third Person Update has been submitted to epic and Should be Live soon!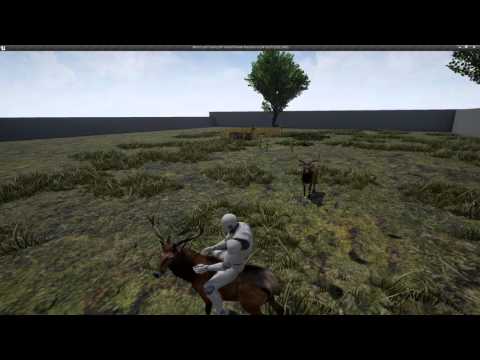 Mount and Taming blueprints - TOP DOWN Overview Video: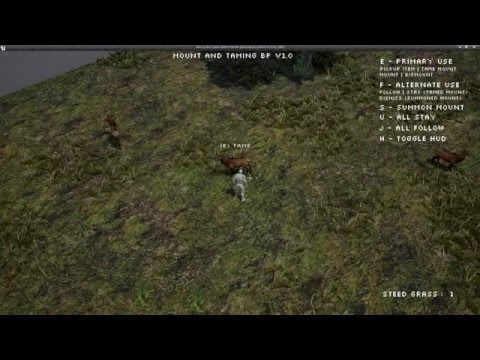 Things that I would like to add to the package in the near future:
- Add Third Person control set *ADDED*
- When using the "all follow" and "all stay" command, I will be adding the command words over the players head as well. *ADDED*
---


Description:
This system includes Both a TOP DOWN and a THIRD PERSON Version of the Mount and Taming Blueprint system. IOn the Taming System, by default, taming is set to require an item to tame; this can easily be converted to a skill based system, or disabled if not required. Once tamed, Animals can be commanded to follow or stay, these commands can be issued individually using the Alt Use key when in Interaction range. Or to all tames from any distance using the ALL Commands. Other uses of this system include if you want to have pets that follow your player, Such as summoned pets and vanity pets.
We've also included a Summoned Mount blueprint for those that do not require a taming system. This BP can be used in a number of ways, one example would be to spawn behind the player and have it run over to the players location. In the demo it is kept at a very basic and we summon the mount next to the player and It can mounted with the primary use key and dismissed with the alternate use key.
The package also includes a usable actor interface system, floating text, HUD elements and it also has Rudolph,
I made this package just before Christmas and had added a "Rudolph mount" to it. I figure I'd keep him in it as a little bonus.
Controls:
E = Primary Use: Pick up item, Tame mount, Mount / Dismount (when in range of tamed mount) .
F = Alternate use: Toggle between Follow and Stay (when in range of a single tamed mount), Dismiss Summoned Mount.
S = Summon Mount
H = Toggle HUD on/off
U= All Stay (Tamed Animals)
J = All follow (Tamed Animals)
---
How To:
how do I load it as THIRD PERSON?:
Change from Top Down to Third Person controls:
Change or add new Mounts:
Setup characters to require or not require an item to tame them:
Change taming from the "Item required" setup to a "required taming skill level" to tame them:
---
- Robviously