Created by: Robviously
Marketplace link: [Laser Rangefinder Blueprint]
Support Email: thelonepioneer@mail.com
#Slack:

The Lone Pioneer



---
The laser and Rangefinder blueprint is

NOW

available on the marketplace.
*UPDATED*


Laser Rangefinder V1.2
---
Change log:
*CHANGED*
Laser Color - Made it easier to change the color of laser. relocated and re-labeled Sample colors to be less confusing
*ADDED*
Laser dot - Laser now draws a "laser dot" at hit location.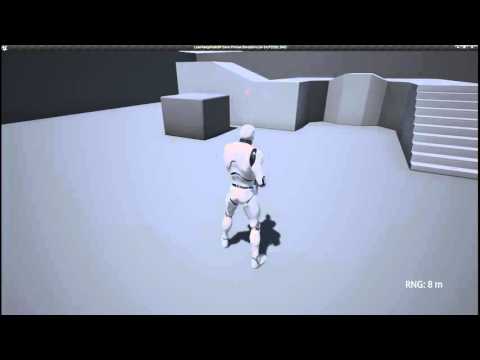 ---

Description:
The Rangefinder displays distance to target at the default cross-hair location/center of screen. Metric and Imperial measurements are both used and can be easily customized. It comes preset to automatically convert measurements upward for example, 1000 m would convert to 1 km. The points at which the conversion starts can be easily adjusted to suit project needs. The Rangefinder Information is sent to an easily customized Widget and can be set to any location in the HUD with ease.
The Laser-sight Targeting Beam is a Custom Particle beam effect that can be easily attached to weapons or various weapon attachments and changed to any color. The beam draws from a start location to an end location and is aligned with the cross-hair point in the center of the screen.
Project notes:
The Text output of RNG can be easily changed to anything you would like. by default i have it set to display "RNG: (distance) (unit)" ex: "RNG: 100m".
Transition points are set to 1000 m to 1 km or 1583 feet to 0.3 miles (Both the Range output text and Conversion points can be easily changed in the rangefinder widget)
---