UPDATE October 23, 2015:
Hey everyone! We have just finished making this pack and have submitted it the Marketplace for review.
Right now, it's available on our website and should be available on Unreal sometime in November.
http://www.polypixel3d.com/portfolio/medieval-docks/
Description:
Medieval Docks features over 200 assets ready to fill your shoreline with walls, docks, boats, houses, vegetation and marketplace props.

Features:


Ability to create multi-level floors with interiors – we give you both modular and hyper modular pieces that can be mixed and match to create an endless variety of buildings
Over 20 hyper modular building pieces – create thousands of variations multi-level houses with windows, walls, stairs, roof, and floor pieces
10 layouts for main, mid-floors, roof building pieces – with 4 variations of each building component

Over modular 40 docks/wall pieces – easily drag and drop pieces to create a coastline city
20+ medieval marketplace props – huge variety of props to fill out your scene from crates, ropes, bottles, foods, kiosks, ladders, lumber, etc.
About 7 vegetation props – mix of trees, dead trees, and grass foliage

4 tileable terrain textures – paint walkways & dirt paths to break up ground variation

LOD (level of detail) states for trees & props – allows for a more streamlined game that doesn't bog down from a distance

Complete Support & Documentation – we make sure we update and support our products with quick email support and full documentation

Screenshots
Demo Video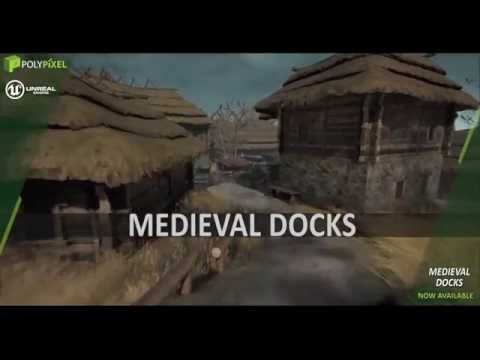 ==============================


Original Post

PolyPixel is back with another new pack named Medieval Docks! We're continuing with the Medieval theme after releasing Medieval Village last month.
This pack has a darker theme featuring grungier assets, thatched roofs, and more dead foliage.
WHAT IS THIS PACK?
While Medieval Village featured more of a booming area, Medieval Docks takes a step towards the shorelines where trades, farmers and boats reside.
It has a darker tone with grungier props, houses, and dock areas. The surrounding vegetation follows the theme with more dead branches, autumn type trees, and tall grass. Something we haven't seen in most other packs are BOATS! We provided a few variations to help populate the shoreline.
The docks and foundation walls are all modular so users can mixand match to create a large shoreline area. There's still lots to do but we feel the packhas a great tone and atmosphere already.
WHAT HAVE YOU DONE SO FAR?
greyblock and nailed down scale of demo level
set atmosphere and tone of pack
great start on the foliage
created modular docks and foundation parts
first pass of houses
first pass on boats
WHAT DO YOU PLAN TO MAKE?
polish/optimize the trees
add VFX & Audio to breath that extra bit of life into the world
bit more variation in houses
optimize scene with LODs, occluders, etc.
populate marketplace area
These are early shots made in Unreal Engine 4. Enjoy!
Screenshots
This should be released on our own store sometime in October and Unreal Marketplace & Unity Asset Store in November.
For now, check out our other
products
on the marketplace, we have
Medieval Village
releasing on October 4th!
Please leave a comment or question below, thanks for reading!