Dear community,
I would like to introduce you to a blueprint Inventory System, which is now released in UE4's Marketplace!
The following is a link to our youtube quick demo:
https://www.youtube.com/watch?v=ySKg0tU_AvU
shown here: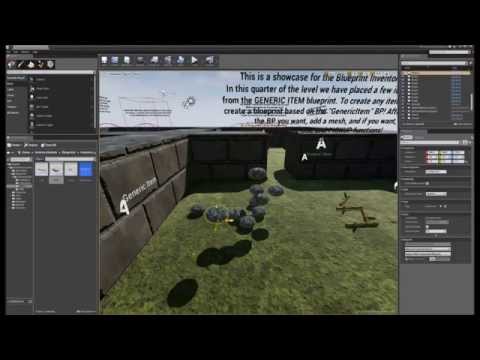 The following link shows a simple demo of creating simple items (it IS outdated but most setup is identical!):
https://www.youtube.com/watch?v=dHwhKzIi2jI
Developing a game in unreal engine 4 and need an Inventory System?
This is a professionally designed multiplayer ready blueprint inventory system for ue4 developers, soon to be released to the official UE4 Marketplace!
Check our official UE4 forum post!
This blueprint inventory system is designed to give unreal engine 4 developers an easy and customizable way to add any inventory to the game.
Adding the inventory system to the game instantly allows you to create inventories, items and containers of any kind!
Inventories
:
Maximum
weight
can be defined easily from the defaults panel
A large number of pre-made useful
functions
!
Slot count
is just as easy to define
Initial items
that can be added from the defaults panel. Every item added here will be automatically added to the inventory at spawn time.
RNG System
: Adding items with a probability ratio so that you can immediately create a looting system!
Inventories come in several flavors:
Limited
and
unlimited
weight inventories. (For you backpack or home-crate needs)
Extendable
or
Limited-slot
inventories. (Extendable inventories are commonly seen in fps games / While limited slot is a more rpg-like approach)
Items
:
Items can
stack
by defining their max stack size
Have a
weight
that is counted as part of the system
Have
properties
like name, HUD icon and more that can be easily be configured
The item class if of course
extendable
allowing the developer to easily add game specific variables (like
gold
,
damage
for weapons etc)
Containers
:
Easily configured containers that are setup to
trade
with the current players inventory
Can spawn with any inventory selected, to easily generate
treasure
chests!
UMG Widgets
: -
HUD rework changes
:
Draggable
inventory windows! Every window now can be dragged around easily!
Scrollbar
that allows you to add as many slots as you wish without visual problems!
New
materials
for the inventory windows! Materials and material instances now
drive the color and shape of the window
!
Stack/unstack
feature now built in the slots allowing you to easily split stacks!
Right click menu
for using and dropping items!
Selection widget
now shows the name, icon and description of an item when you target it!
Double clicking
now moves items between inventories!
Many more
visual and functional fixes, creating a better,
more intuitive to the user HUD
!
New Showcase Level:
Descriptions
and
explanations
of the three main blueprints of the inventory system,
Generic Item, Inventory and Container
!
Examples of simple
items
,
containers
,
inventories
and a
loot spawner
!
Don't forget! Everything is
multiplayer
ready!
Also all our code is well commented, and tooltips are filled with
useful information
!
Commenting example (RNG module):
Inventory function list:
Inventory defaults page example:
--
Any comments or questions are welcome. I expect to release some follow-up updates which might include some new features, so you are also welcome to ask for new features.
Thank you for your time,
Philippos Christianos