Marketplace
:
https://www.unrealengine.com/marketp...rmation-system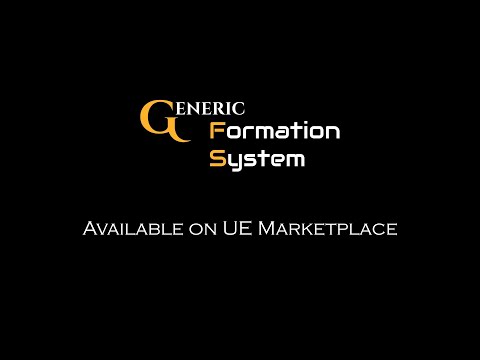 Generic Formation System is a generic system for ANY styles/types games and it is customizable/extendable/easy to use.
Why GFS?
Formation system is a complex system for the game, and it is take much time to implement. Using GFS can save time to let devs focus on their own game feature logic.
Compare to other formation assets on marketplace, you can find that there is no one is extendable and customizable, even no longer support anymore.
GFS is a part of my own game originally, and it separated to a independent plugin and be a generic system. Long term support is a
MUST. Also, GFS is not limited to single style of game, like some asset only available to RTS game only. You can use GFS in your different style games in anytime.
Features
:
Execute formation in-place
Moving in formation
Simple group management
5 pre-built configurable Formation Types (4 Col/10 Col/Circle/Square/Wedge)
Custom Formation Types
Follow target
Auto regroup
Can integrate to ANY other systems
Suitable for ANY styles/types games
Provide Third Person and RTS Sample Project

Class Ordering

Real-time Movement

Support Multiplayer (Network replication)
more detail please check the marketplace page and
documentation
.