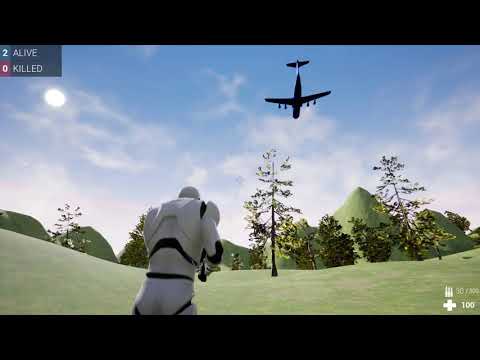 UE4 MARKETPLACE
gumroad
-
https://gum.co/dsvXo
DISCORD
:
https://discord.gg/ZgdQvrw
RADBR is RAD (rapid application development) battle royale template. It has everything you need for battle royale game - menus to create or join games, settings menu, 2 characters, 3 game modes, observer system, weapon spawner, weapon drop and pickup, moving barrier, plane, lobby island, example map, etc.
Using this template you can create game prototype very fast. It works with listen and dedicated servers. Template flexible and extendable architecture. It's very easy to integrate your own character, weapon system, inventory system, etc...
---
FEATURES:
3 GAME MODES
WEAPONS
Weapon spawner
Rifle
Pistol
Weapon drop and pickup system
Headshot
Damage indicator
Enemy hit indicator
GAMEPLAY
Moving barrier - player is getting damage outside the barrier
Observer - dead player can watch for alive players and change observable player
Plane and jump from the plane
UI
Main Menu
Host Game
Server Browser menu
Game Settings menu
Player HUD
Observer HUD with killer name
Kills Log
Lobby widget
Match Finish widget with winner name
Teammates in duo and squad modes
---
TECHNICAL DETAILS
Engine Compatibility: 4.24+
Number of Blueprints: 60+
Input: Keyboard and Mouse
Network Replicated: Yes
Scaled to Epic Skeleton: Yes
Rigged to Epic Skeleton: Yes
Supported Development Platforms: PC
Supported Target Build Platforms: PC
Email: bv01d7@gmail.com