Hi Friends,
As a marketplace user it's hard for me to keep track of all the assets that I want to buy in the future so for that goal I have built a wishlist/tracker for everybody to use. It allows you to add marketplace products to your own personalized wishlist directly from a product page by using a Bookmarklet that the tracker generates for you, you drag it in your bookmarks tab and when you are on a product page if you click it, it will add the product to your wishlist.
I hope you enjoy it and looking forward to hearing your feedback and how I can improve it!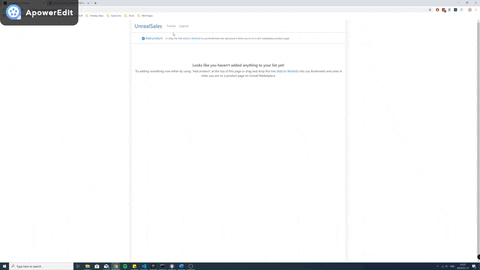 https://unrealsales.io
Development Roadmap
If there's interest in this wishlist I would like to add more features and here is a roadmap of what I'm planning to add

- Price Tracking - RELEASED
When an item from your list changes price (down) you will be notified with an email
- Multiple lists -
ETA TBD
Ability to have multiple lists and switch between them. Name, delete and move items between them.
- List collaboration
- ETA TBD
Share your lists with other accounts and collaborate on compiling lists with other people from your team.
more to be added