Hi,
Me and my friend Michael decided to use our knowledge of scans to create a package on the marketplace. After hours. We want to release this month. Still some fixes need to be done but simple question is what do you think about it? This is our first package and we will be grateful for every feedback.

Draft:

[UE4][SCANS] Old Factory Street - Environment scene
Preview: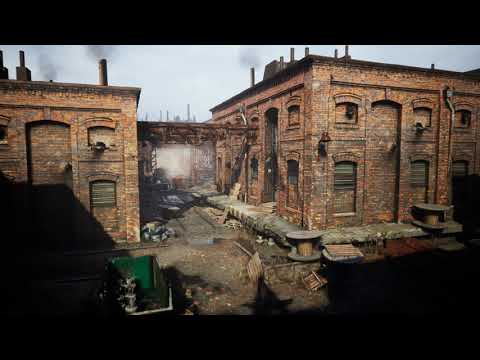 Old Abandoned Factory Environment Town Scene with bricks, pipes, gravels, cardboxes, spools and many highdetail photogrammetry assets like brickwalls, spools.
Description:
-The Old Abandoned Factory environment Scene contains all you need to create high quality scenes for top down, 3rd person , FPS Battle Royale games.
-Contains over 100 detail meshes, from modular buildings to photogrammetry bricks and dozens of pieces of universal street environment.
-All models are optimized wise and game ready with 4k textures for most assets. All the meshes have LODs. If Your target platform have limited memory consider lowering some textures resolutions.We prepered seperate map version for older hardware.
-Create varied environments from factory street to whole old town with big manufactory.
-static and dynamic lighting ready - most lightmaps generated
-two lighting scene setup (day and night)
-This pack will be occasionally updated with new assets and textures
Need Customization Work?
Send us an email at
ScansFactory@gmail.com
Technical Information:
Demo scene included
Two lighting setup(day, night)
Factory (x4)
Storage Containers (x4)
Chimney x2
Gas Tank
Garbage Container (x2)
Pipe variations (x3)
Stairs(x3)
WoodPallets
Curbs
MetalSupports(x4)
Cables(x3)
Pipes(x4)
Roofs(x7)
LoadingRamp(x2)
GroundConcrete(x6)
ConcretePlates(x2)
Trails(x2)
Manhole(x1)
Trashbag(x1)
Lamp(x1)
WoodSpool(x1)
Bricks(x6)
Backgrounds(x5)
...more
Texture Sizes:
4096 for larger objects
2048 most props
1024 small props
Terrain: 1024x1024
Collision: Yes, automatic /Partial manual
Vertex Count: 500-7000 ?????
LODs: Yes, Auto generated
Number of Meshes: 112
Number of Materials and Material Instances: xx
Number of Textures: 200 (Color, Normal, Occlusion, Roughness, Metallic, Emissive)
Intended Platforms: Desktop, Console, VR
Platforms Tested: Windows PC (should work with others)
Documentation: materia instances, grid and how to you it, teselation.
Also more information about us:
https://www.artstation.com/exactingoftime
https://www.artstation.com/michalmierzejewski