Plugin to edit instances of the Instanced Static Mesh Component and HISM Component in Level Editor.
This plugin allows you to manipulate instances (Instanced Static Mesh Component and HISM Component) as with ordinary actors in Level Editor Viewports:
Allows you to: Move , Scale , Rotate, Сlone / Delete instances
Supports Snap operations (built into Unreal Engine Editor, RMB menu -> Transform )
Change Pivot Point (Press Alt + MiddleMouse key over Widget)
Join Static Mesh to Actor with ISMC or HISM Component
Creating an actor with instances
Fast Clone: Press Alt key over Widget
It also allows you to clone any actor, volumes
Add delta Transform for any actor (Location, Rotation, Scale)
If you want to change instances, click "Pick Instance Mode". Select instances. Move them, remove and etc as ordinary actors. To apply the changes, press the "Pick Instance Mode" button again.
During editing, instances are turned into Static Mesh Actor, after editing, they are turned back into instances.
Note:
if instances are created by another utility, press Convert In Instances and they will become editable.
Video: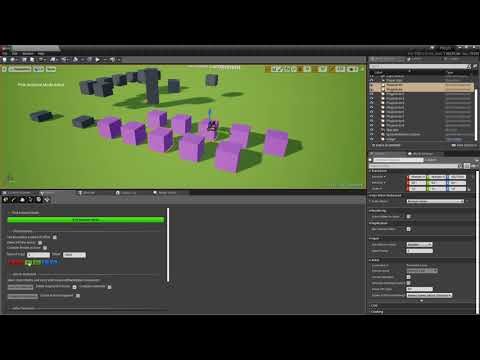 Marketplace:
https://www.unrealengine.com/marketp...nstance-editor
Version log:
Version 1.7:
* Сan choose HISM or ISMC Сomponent to use
Version 1.6.x (version 4.21 and higher) October 2019:
* Added function to convert Instance back to Static Mesh
* The name of the created actor with instances is now based on the selected mesh, instead of just "Actor"
* After cloning, you can automatically select the original and new Actors
* The function "recreate instances" is now a separate button
In the future version 1.7, it will be possible to choose between HIMS and ISM type of instances (now only HIMS)
Version 1.5:
* Creating actors with instances
* Editing instances created by other utilities
* Plugin can edit instances created dynamically in the scene
* Support any number of HIMS components,
Version: 1.1 - 1.4 :
* If instances are created by a plugin, then hierarchical instances are used.
* bugfix: deleting an instance by pressing Ctrl + Z
* bugfix: GUI fixes
* Added button Convert In Instance;
* bug fix: reset selection if more than 5 instances have been selected