Hi guys! It's been quite a while, but I'll finally be able to submit this to the marketplace.
I made a 3 minute promotional video showcasing the features of this package (Please note that the video is speed up roughly x2 or x3, the actual hair wind animations & eye blinking are much slower in reality)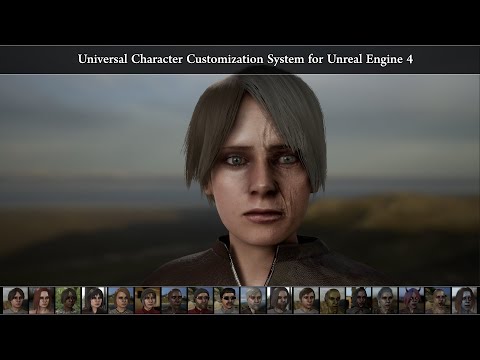 Features
The Universal Character Customization System empowers developers by allowing them to design
high quality humanoid characters
(males, females or monsters) within the engine.
Plug and play:
adapt it to your project in less than 2 minutes.
Over 45 morph targets to define the shape of the face, eyes, nose, mouth, etc.
15 Bone modifiers to determine the character overall shape (e.g. arms size, body fat, etc.)
Over 65 shader parameters for the skin (age, muscularity, tint, etc.), eyes, hair, etc.
10 stunning hairstyles (extremely customizable using morphs & shader parameters) + 7 beard styles
Highly efficient wind vertex animation for the hair. Globally control the wind direction and speed using a simple material parameter collection. Simulate movement for hundreds of hairstyles at virtually no extra shader cost.
40 free cloth meshes: T-Shirts, Polo Shirts, Jackets, Pants, Glasses, Hats, etc.
Highly customizable cloth shader with up to 4 material layers, cloth fuzz and dirt effects.
Amazing eye shader with configurable colors, veins intensity, scale, animated glow, etc.
Beautiful cosmetic effects such as blush, eyeliner, eyeshadow and lipstick.
Decals such as freckles, scars, warpaint, etc.
Configurable teeth: control the teeth, gums, tongue colors, dirt, shape, orientation, etc.
Powerful randomizer tool to effortlessly generate new characters or create small variations to existing ones.
Cloth, hairstyles, beardstyles and accessories will be
added for free
in future updates.
Some new screenshots:
---- Old post content ---