Hello everybody!
Package is released:
https://www.unrealengine.com/marketp...is-modular-set
Recently we released a rubble/debris pack for another game engine.
Currently I'm working on updating it and importing everything into Unreal Engine.
All current screenshots/images were captured with Marmoset.
This is current specifications for the whole package:
The contents are set in a realistic setting and are made with current and next gen in mind with each piece
coming complete with several LOD levels and lightmap UVs to fit every project.
Debris Pieces Specifications:
-50 Standalone debris pieces
-4K PBR Textures
-2 LOD levels
-Optimized Polycount
-2nd UV channel is included in each piece for lightmap baking

Tiled Texture Specification:
-4 Tiled textures
-Bricks/Blocks/Concrete/Mixed
-4K PBR with heightmap

Rubble Piles Specifications:
-5 Standalone pieces
-4 Small standalone pieces
-2 Corner sections
-4K PBR textures
-Compatible and optimized for mobile games
-Highest LOD setting per piece averages at 3k-4k triangles
-4 LOD levels per piece at 100/66/33/10 percentages
-2nd UV channel is included in each piece for lightmap baking

Price will be set to 30$
I will gladly hear any suggestions or comments to make it better and more appealing for game makers.
Thanks!
Youtube video: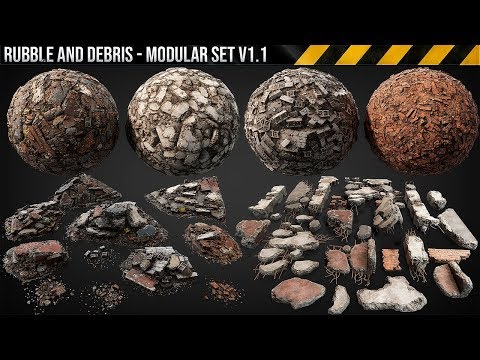 Screenshots: