YAY! I present to you the new asset pack -
Ships and Rocks
https://www.unrealengine.com/marketp...hips-and-rocks
It has
9
modular galleons
and
Chinese Junk
as well as an
old wreckage
in it! Furthermore the pack contains
rocks
, a few
coral reef
meshes,
foliage
,
water
, tessellated
terrain material
, some wooden assets like barrels and such (fishing nets, glass balls, etc.) - overall more then 140 meshes! There is a
map
included with the galleons and Chinese bay so you can quickly build the environment using it as a reference of copy groups of meshes from it.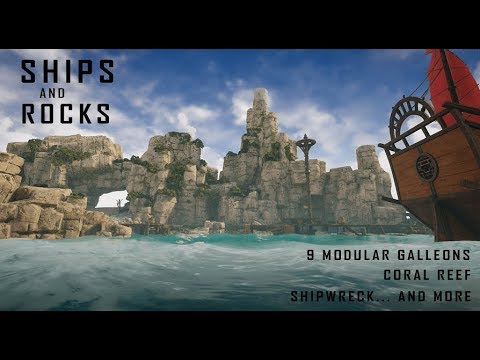 There are a few types of water. Also the material is quite complex one: It has 4 overlapping wave types, pixel depth, optimized tessellation and the stencil removing possibility. I am working on adding buoyancy and some other effects but that as I found is already available on marketplace so I am still not 100% sure I will do it. There is one particle system (the bubbles) in the pack at this moment: Below you can see how terrain is tessellated on the left and on the right (or below, depending on what monitor/screen you are running this website) there is an overview of the coral reef, you might be able to spot sunk shipwreck further forward.
The water material removes the water from the interior of the ship if it has a proper setup of custom stencils (look at the example map). I will release tutorial on this subject as soon as I can! There are currently descriptions around the assets explaining some of the features of this pack: See the screenshots below for example:
There are more materials then these but these I am especially proud of: Most of them vertex painted, tessellated and of course, parametric
I want to apologize
LiquidSin
for taking so much time to publish this stuff: You see it was never the way I wanted, I kept on updating, polishing and fixing stuff... This sure took a looong while. I also wanted to thank
John R
for his everlasting support, wisdom and a great passion for ships in general!
If you see any issues or have any questions: Don't hesitate to ask: Here on via mail