Hey everyone
,
Physics Interaction: Doors and Locks
is a system for adding physics simulation based interactive elements to your project. It is compatible with VR as well.
Marketplace link:
https://www.unrealengine.com/marketp...hests-and-more
Preview
: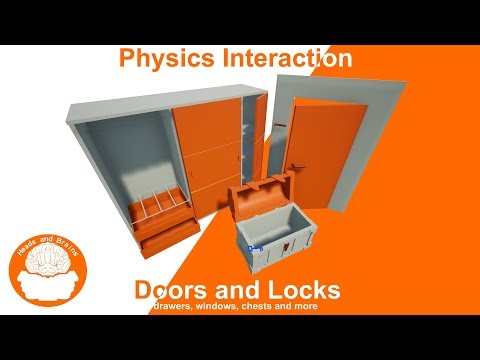 Features
:
Easy to set up, easy to use, easy to extend
Ability to check if Interaction input got used for interacting. Can be used to use same key for both Interacting and any other action (e.g. firing a gun)
Supports First person, Third person, Top Down, full VR, and probably any other type
Multiple detection methods such as tracing, mouse cursor or custom mesh collision
Mesh collision detection prioritizes grabbing Lockset over Openable. Useful for preventing accidentally grabbing door when intended to grab handle in VR
Select any actor as a key
Basic inventory system for picking up keys (not visual, just a string array)
Ability to use custom Collision Profile for Openable and Lockset meshes
Basic, modifiable sound system for playing sounds when certain events happen e.g. door opened, lock got unlocked, etc.
Save created actors as templates (prefab of multiple actors) to spawn without needing to copy paste/rebuild
Easily access events from other actors and extend functionality of system itself
Updates
:
Extra Guides
:
Template First Person implementation
This guide will show how to use same Fire input to both interact and fire the gun as default in First Person Template:
Template VirtualReality implementation
This guide will show how to implement this system with UE4 default VR template:
Horror Engine implementation
To implement this into the free marketplace asset called
Horror Engine
:
Known problems/solutions
:
Demo characters in the project are not meant to be used as starting point for your character because PlayerController used for them is very specific to the demo.
Special thanks to Peter Ryan aka TorQue[MoD] for testing, making better models and sounds, and giving some ideas
​. He is the founder of Apeirogon Games, please check out his site:
http://apeirogon-games.com/