Hello There Devs!
Here we are again, returning to the marketplace after a lot of time, if you read our
2016 RoadMap
you know that the last months has been very very special xD. But, as we say at the start, here we are again, presenting you our first submission after a long time,
Olbert's Low Poly: Modular Dungeon
, released just today. A lot of stuff was happened the last months let us talk a bit of that to you!
First all, our new PC, after suffering a lot, we complete our setup in March, import all the stuff required for complete a rig take a long time in our country, to that, add two weeks because the first RAM that we bought dont work with our MoBo, we still dont have idea because
. The second sticks work well. You can find our new PC Specs in our signature.
Inmediatly after set up all for start, download UE4 in the last version and some other stuff, we start with a light project, our best idea in that moment was a repack that include the most of our previous content packs, we call it Olbert's Low Poly: Biomes Repack Vol1
No Fake 1 link MEGA Full Last Version Reloaded
(Sorry i cant resist it! xD). Epic accept it in the marketplace but we dont have idea for what reason Epic released first
Olbert's Low Poly: Modular Dungeon
, that was our second submitted content, we send to them an eMail in the Biomes Repack Vol1 with not response, we are still waiting it. Always, Yesterday they tell us that
Olbert's Low Poly: Modular Dungeon
will be released today, very surprising for us!. Anyway we wait at least one month for receive the release date after Epic Accept Modular Dungeon in the marketplace, seems that the UE4 marketplace will have nothing to envy Unity Assets Store in a couple of months, the community is more and more active every day submitting usefull stuff for the community and Epic is doing a great work with the bureaucrazy, They are not faster than other months but it is comprensive!.
We feel happy to tell you that we are starting to work on a little project, a Zombie Horde game using our marketplace assets, in first person perspective, that will be completely free when we complete it. This is more a practice project, for get new knowledge in the game dev process, we feel ready to do it. We start a little section in our YouTube channel just like a Devlog Serie, We will leave inserted below the video! This is our second game project, if you read our
2016 RoadMap
you are noticed that our first project a long time ago was premature, we call it
Virtual Demolition
, we dont leave the idea, we still keep it present, but in that time we was not prepared for create and publish a game.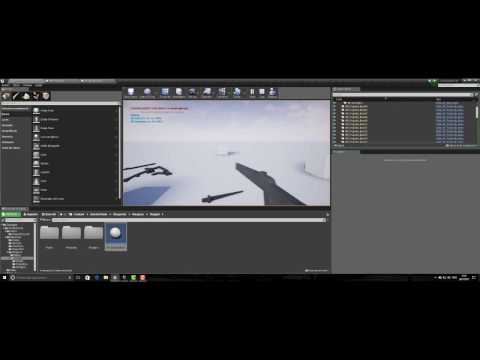 Two months ago [MENTION=106539]insanerob[/MENTION] leave us a link in our
2016 RoadMap
to some
screenshots of him project
(Go below a bit and look for [MENTION=106539]insanerob[/MENTION] in the post for see it), a mobile game that we dont have a much info like name or concept ( [MENTION=106539]insanerob[/MENTION] leave us links pls!) and make use of some of our assets in the marketplace. We are very happy that our assets has been used in the [MENTION=106539]insanerob[/MENTION] project, from our beginning in the marketplace is our fantasy see our assets in the project of some one out there, Thanks [MENTION=106539]insanerob[/MENTION] ! (And sorry for the non-response in the Roadmap, the last months we dont see it a lot xD).
Now lets talk about the recent released content pack,
Olbert's Low Poly: Modular Dungeon
, A content pack for create dungeon with simple lowpoly style, the parts of the dungeon and the modular system are inspired by
this array of images
, specially by
this image
, we are not followers of D&D xd we are not too old jajaja (No offense intention guys) but that image was magic for us, in the future we will continue developing Modular Dungeon Assets, this one is like the start of something a bit mor big, but we want dont offer details xD. Olbert record a video that shows
how to use it
, the assets look speacially awesome in darker enviroments.
That is all for now, we feel awesome Armed with our new PC and we have intention to keep developing games, from us and later, from other people that request our help, but first we need be sure that we can carry all the responsibility of develop a game, and there is no other way that create our own games. [MENTION=106539]insanerob[/MENTION] we hope you comment here!
Thanks!
Whitman And Olbert