RELEASED!
This plugin provides you with a series of Blueprint nodes that allow you to serialize and save any number of actors and all the useful data you want to save for each one of them (any variable it contains, including references to other actors, will be preserved).
An interface will help you identify all your persistent actors, avoiding aditional and anoying steps. Forget about adding each variable to an array and recovering them in the same order! Everything is handled by the plugin!
Just implement the interface in your actors, mark your variables as "save game", call the save nodes and you are good to go! All your actors and data in any number of maps will be saved in a single file with your player name!
Ideal for any kind of game that requires persistency!
This plugin contains:
A Blueprint function library that provides 7 Blueprint nodes to handle all the serialization, saving and loading process.
5 Simplified Nodes more for fast load and saves in one step. Let the system handle the hard part for you.
An Interface to identify the actors you want to save, as well to call the corresponding (optional) events on each one of them when saving and loading.
List of Features:
- All doable in Blueprints, No c++ required.
- Save and load all your player character data.
- Save and load any number of persistent actors.
- Save and load any number of persistent Objects [New 1.4r1]
- Save dynamically spawned actors.
- Classes, Transforms and Variables (references included) are saved.
- Data saved to a single file with your player name.
- Use the same file for any number of maps.
- Expand functionality in Bluprints by using the interface events.
- Full source included.
Use Case examples:
- Save your character health, position, inventory, etc.
- Save your quest/dialog progress without creating aditional save files.
Watch it working here: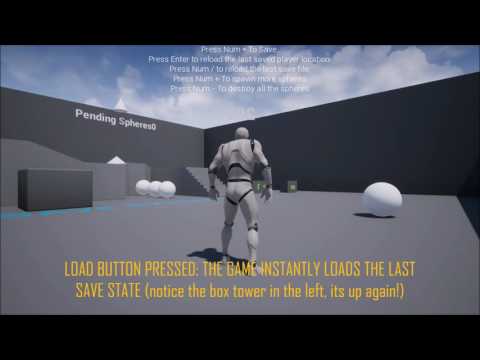 Demo Download:
Here
Example project:
GitHub Link
Documentation:
LCVgs Serialized Saves Wiki
Marketplace Link:
Here
FAQ:
1. How much does it cost?
The intended price for the plugin is U$D 14.99.
2. Is Multiplayer Supported?
The plugin does work in multiplayer games. However, it is not actively supported and you will have to make your way around replicating the saved data. In other words: there is not a node for saving/loading multiplayer games, however it might be added if enough people show interest.
3. Does it work on "my platform"?
It should work on any platform that uses Unreal's Save Files, we've only tested it on Windows (x64 and x32) and HTC Vive.
4. Are you going to update the plugin?
Yes. We are using this plugin for our own projects and that means we are constantly correcting and adding new features to it. Requested features will be added if, as stated in point 2, enough people show interest in it/them.
Leave a comment, let me know what you think!
UPDATE 1.4 (SUBMITTED!)
NEW FEATURES:
. Automatic Saving and Loading of UObjects.
. Automatic Re referenciation of UObjects.
. Mac, IOs and TVOs support.
Read the full notes
here