So its been a long time since Ive posted updates, but I'm proud to say that after finally getting a break from school I was able to finish and release it
Preview -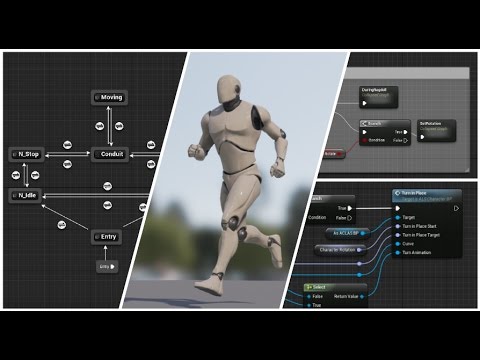 V2 Update video -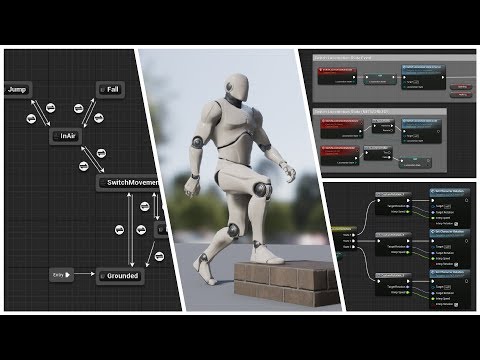 Short Description - This system is an advanced bipedal character locomotion system focusing on high quality character animation with responsive movement. (100% BP)
Long Description - Too often game animation lacks quality due to the underlying movement and animation systems being poorly thought out. Animators can create good looking assets, but a badly designed animation system can diminish their quality and create a sub-par experience. This system's purpose is to bridge the gap between the front end and back end of in-game animation, and give animators a good foundation to create assets that will work well with responsive character movement. This system demonstrates a method for achieving responsive movement while retaining a high level of animation quality.
This system:
• Looks realistic and works in many game types (3rd person shooter / Action Adventure / True first person)
• Keeps player in constant control
• Looks good at all times and conditions
• Simplifies animator workload wherever possible (For low budget games)
• Is very flexible and highly adjustable (Everything can be tweaked and tuned to get the best balance between movement and animation)
Features:
• Direct Capsule Control (No Root Motion)
• Multiple Locomotion States
• Smooth Blending between Directional Animations (minimal foot crossing, if any)
• Adjustable Rotation Offsets
• Single Pose Additive Leaning
• Custom Rotation Rates
• Multi Directional Stopping Transitions
• Transitions between Idle Stances
• Timeline Driven Turn In Place
• Third Person / True First Person
• Rotate Towards Velocity
• Look in Input Direction
• Jumping
• Seamless Ragdoll / Get Up Blending
• Multiplayer Support (Dedicated Server)
More info can be found on the Store Page here -
https://www.unrealengine.com/marketp...tion-system-v1
Let me know what you think
Thanks, Caleb
Edit:
Hey guys, real sorry I haven't been keeping up on the forums. I do get a lot of emails, and support can many times be physically draining, as I'm only one guy with other things I need to do as well. I do try to get back to people when I can, but it's always easier with emails, since things can easily get lost in the forums.
So when I first started on this system I never intended to sell it. It started as a hobby and a learning project, and was basically my first introduction to game animation and development. I'm entirely self taught, and have no real experience before this ( I also suck at programming...math, right?) It was also something I was planning to use for my own projects, but due to the positive feedback and encouragement I received I decided to give the marketplace a shot. After it went live it kind of blew up and my life has been pretty busy ever since. I had never expected to sell very much and so I greatly underestimated the amount of support that would be needed of me.
One thing I learned early after release is that it's very very difficult to make an asset as complicated and integral as this and have it work for everyone. Character movement and animation systems can be very hard to integrate with other systems (and vice versa) due to the nature of it being directly tied in with many other things. I'm also still very new and have very little programming knowledge so I did the best I could with what I had, and at the very least I hoped it could be a useful learning tool. I would have loved to build a system that was completely modular or "plug and play", and I still would, but that's super tricky, especially with something like this. Most of the times in game development, character movement and animation systems are built around the design of a specific game, and so they become highly specialized to work with a specific project (also, it can take months to build a system just for one game, and hiring someone to do it would cost much much more than $60). And even if something is made highly flexible and customizable, it still wont work for everyone. Each game will have its own unique needs and it's impossible to account for everything. The best approach would simply be to make something as generic and boring as possible, but then you'd get generic and boring results....oh and then there's networking, which has a completely different set of problems.
So yeah. I hope you guys understand the difficulties of some of the things I have to face. Obviously I'd love to make the best thing ever and have it work perfectly in all situations, but I mean c'mon...this is game dev and when does that happen.
I've been listening to all the feedback I can, and I understand that this system can be difficult to integrate into existing systems, especially for people who are new to programming, animation, and gamedev. I'll be honest I've been wanting to move away from the marketplace for a while to work on my own things, but of course I don't want to abandon my system either. Right now I'm still trying to decide what I should do. As I continue to learn, I discover new ways to make the system better, but I know that even if I recreate the system for the third time using different methods in order to be even more easy to work with, I'll still run into some of the same things. So right now it's kind of up in the air. Also, If I do recreate it, I may have to split up the system into a single player version and a multiplayer one. With networking, some things such as character rotation and physics are difficult to get just right, and so I might have to use some built in features to keep things generic enough for Multiplayer, but I don't want to compromise on singleplayer quality if I don't have to.
I also know that a lot of people want to see many more features. Again, I'm just one guy so I'll see what I can do, but I can't do everything for everyone. As long as I can build a system that is relatively easy to add to, I'm hoping that should be enough.
Once again I'm sorry for my lack of support in some cases, I meant no offense. I'll do my best to be more diligent If I can, but please please don't expect me to be able to solve everyone's problems right away. Sometimes I simply don't know the answer as I'm still learning too
All the best, Caleb Longmire