Now available on the marketplace!
Marketplace Link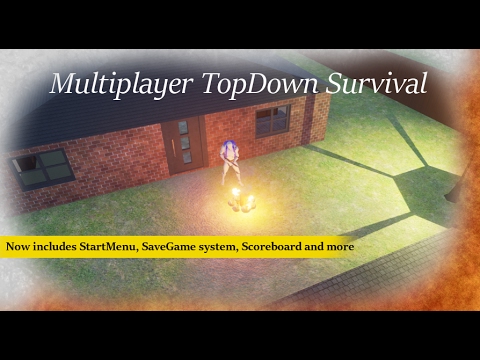 Highly customizable multiplayer template for creating TopDown or Survival games.
User Guide
Features
FAQ
Where can I find the tutorials?
This pack currently has 11 Blueprint Editor Tutorials. These tutorials cover the character, inventory, equipment, crafting and building, weather, food water and temperature and interacting with actors and outlining them, start menu, multiplayer system and the SaveGame system. You can find them under Edit->Tutorials in the level overview or under /Blueprints/Tutorials. These tutorials cover where to find specific logic, how it's set up and explain how things like inventory items, equipment slots or wind speed can be quickly added. If anything remains unclear after reading the tutorials please contact me about your issues. I will always help you to realize your vision and be thankful for all feedback that will help me to improve the documentation.
Can I play with a friend over the network?
This system uses the Online Session nodes and therefore you can. Check out the Unreal Engine 4 documentation to find out more about the Online Session nodes.
Will basic AI (for example zombies) be added to this pack?
I will consider that in the future but it's not at the top of my list. I will keep focusing on features that are more related to each other first. Such an AI would have nearly no relations to the existing features and would therefore pretty easy to integrate into the template for everyone.
The widgets stop updating after they have been drag&dropped
I am aware of this issue but this is an Unreal Engine bug. This issue is documented in the report UE-31777. Epic will hopefully fix that bug in the near future.
Additional Tutorials
Drop / Pick up item actors
outdated since v1.2.0
Add a new item
Remove the survival part (day&night cycle, temperature, food, water)
Changelog
v1.1 (12-22-2016):
- The 12 hour format of the clock wasn't displaying the correct hour. This is now fixed.
- Fixed a bug that was causing the inventory system for one client not working properly when using a dedicated server.
- Fixed a bug that was causing the temperature system for one client not working properly when using a dedicated server.
v1.2.0 (02-14-2017):
New Features
Changes
v1.2.1 (02-24-2017):
Changes
- The class BP_InvItem_Buildable is now removed. The campfire and other buildable items now directly inherit from BP_InvItem. They become buildable if both of the buildable variables in the DataTable DT_Items are set.
- Some Server RPC events are not longer RPC events and start with a SwitchHasAuthority node instead.
v1.2.2 (04-13-2017):
Changes
- The component BP_Inventory now contains a function for resetting the inventory so it can be looted with randomly generated items again. Calling this function will only have an effect if called on the server and when no player does currently has the inventory opened.
- The type of the attachable equipment meshes is now skeletal mesh.
- Fixed a bug caused by the editor that resulted in a warning in BP_PlayerCharacter after each editor restart before compiling.