Using Landscapes this week for a project I notice there is near no changes since the version of 2010-2011 in UDK landscapes that was 6-7 years ago guys. The max quality you can get at set all parameters max in a landscape right now is 1 vertex per 1m that in the modern games is really bad, yeah you can scale the landscape from 100x100x100 to 50x50x50 to get 1 vertex per each 50cm but I notice at have a empty scene with a single directional light and 4 landscapes of this making a cubic zone of 8x8KM 4x4km each one cause the max size per landscape by default is 8Km as in 2010-2011 that
4 plane landscapes of 4x4km each one without even materials take my whole 16GB of Ram
.
The today games have way more polycount detail than this: x2 to x4
This is about a .25 of difference between new terrains vertex, we are more or less in 2017 after all this is not 2010 anymore.
This is about performance and visuals but too about tools, my request are more like this:
- Why can't edit 2 or 4 landscapes at time I can't manage to get their corners look at same height without holes and the terrains need to be at same height.
- Move the terrains in the editor sometimes is locked and other take years to move,
at copy to clipboard a empty landscape of 8x8KM the engine crash with a i7 and 16GB of Ram!
- Some times at place entities with the foliage tool you want to place non instance objects, you just want place a small group of instances or don't even need to be in the landscape can be in a static mesh (note you can already place in non landscapes).
https://answers.unrealengine.com/que...instances.html
- Other times you need at place entities with the foliage tool automate a system to edit the terrain zone where are placed as for example if you have sand and need move the corners to give effect where the mesh in placed...
https://answers.unrealengine.com/que...e-foliage.html
- More detail in the landscapes we need x2 or x4 more detail the current 1m vertex is really bad when need detailed terrains, the player can't even walk in zones.
- Better performance please. 16GB for 4 empty landscapes is really absurd and the map is about 512-580MB.
- Other engines uses offline tools that don't need to load the materials of content or do rare game logics to setup in editor the materials layers and vegetation calculating all in editor and without the need of calculate nothing of that logics in the materials or BP. As example
http://twvideo01.ubm-us.net/o1/vault...eation_and.pdf
credits to the The Witcher 3 creators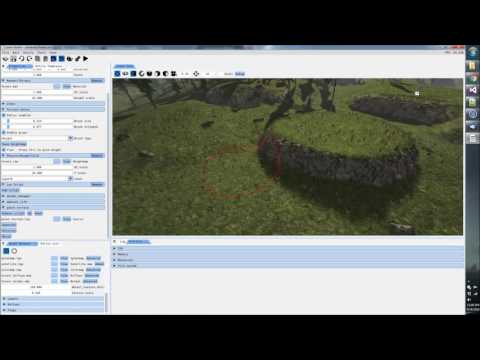 credits to the LumixEngine author
- All of this without count with this system you can't make caves, or non vertical terrains.
- And the vertical LODs requested in 2014 not added yet.
Looks like Epic Games don't even use the landscapes for their games as UT, Paragon or others looks like they use terrain meshes to get more detail and performance.
Thanks for you time.