When applying an additive animation in the animation graph, you use a node called Apply Additive. Using an alpha value between 0.0-1.0 behaves as expected. Using a value outside this range causes no behaviour. I believe that being able to set the alpha past 1.0 and overdrive the pose will open up for animations tricks, as presented in the
GDC Presentation
by David Rosen (Wolfire). In the video below you can see me recreate one of these tricks in UE4, I do however need to apply the additive nodes twice to be able to go past the value 1.0 and overdrive the pose.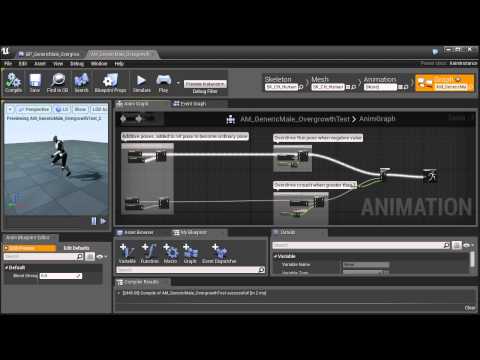 I used additive poses because I can't seem to find any other way to overdrive a pose. If we could either overdrive an additive pose, or get access to animation pose strengths directly, maybe messing with the euler values, I think it would be awesome!
p.s.
I would not say no to extra
easing functions
in Blueprint either. We currently have FInterpEaseInOut, having a kit of these would open up a lot of cheap but fancy tricks.
d.s.