WHAT
We're kicking off a new C++ focused stream, with Richard and Lauren! We're making tanks to fight a zombie onslaught, using Paper2D. In the first stream, we'll go over the project overview and get started building our Tank and Turret. If we have enough time, we'll start building out our level with Tile Maps.
We're using a selection of sprites from
Kenney.nl's
asset packs (
http://kenney.nl/assets
). Download these two images, make sure you have VS2015 (with C++ enabled!) and 4.10 installed, and you'll be set to follow along!
The topics we are going to cover are:
Project Overview
Setting Up Your Development Environment
Starting the Project
Building Our Tank Pawn
Adding The Turret Actor
Tiling the Level

WHEN
Tuesday, Feb 16th @ 2:00PM-3:00PM ET -
Countdown
WHERE
www.twitch.tv/unrealengine
WHO
Lauren Ridge - Training Content Creator
@LRRidge
Richard Hinckley - Sr Learning Resource Engineer
Feel free to ask any questions on the topic in the thread below, and remember, while we try to give attention to all inquiries, it's not always possible to answer everyone's questions as they come up. This is especially true for off-topic requests, as it's rather likely that we don't have the appropriate person around to answer. Thanks for understanding!
Archive: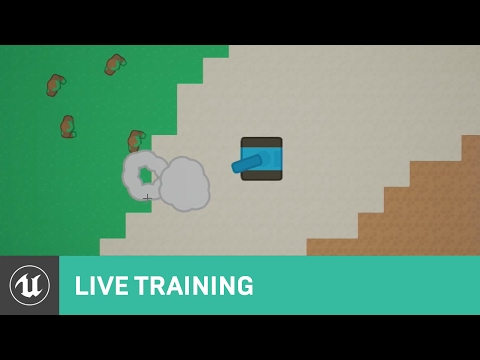 Here's a link to the code we created:
https://epicgames.box.com/s/1s4yt9e1...djau163f0be0yl