Link to a download of your game:
http://crackpotgumption.itch.io/escapetheoctagon
(180Mb)
Team name: Crackpot Gumption
List of team members: Jon Wainwright
Name of your submission: CrackpotGumption_EscapeTheOctagon
Did you make all your own assets? (yes / no): No, Epic starter content was used as well as a number of CCO audio assets.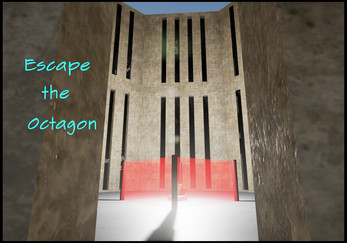 Escape the Octagon is a first person puzzle game where you must progress through a series of rooms before your character dies.
With each subsequent life (or generation of the player character), you can use past knowledge to dive further into the puzzles faster, eventually reaching the center podium and escaping.
Gameplay video of the first three rooms (some small spoilers, but shows you how to play)