Hey guys,
Before I'm flamed, I know there are hundreds of posts on these forums regarding the EULA for Royalties, but most of them are either out of date, contain just general trolls who don't really answer the questions and "copy and paste" the wordings from the EULA and then bold the important words, or the topic just doesn't make sense.
I've just graduated from university in Games Programming and would like to setup a Games Studio with a group of friends, where we can use the Unreal Engine and Steam is our distributor. The concerning question, is how Epic get the royalty for Gross Revenue of over £3,000 per calendar quarter. What I have done, is created an excel sheet to help me understand it using formula, and hopefully someone can either confirm or deny my understanding of how it works.
Please see the below;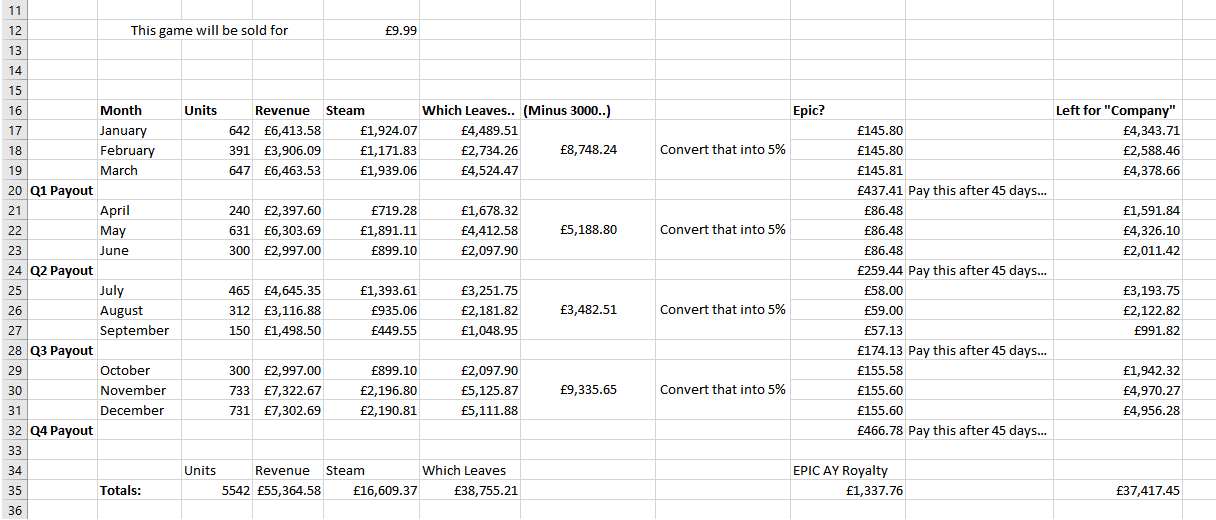 Hopefully it's straight forward, but if not I'll explain it below.
Month = Month…
Units = How much of the "Product" we sold in said "Month"
Revenue = Units x £9.99
Steam = The 30% steam take
Which Leaves = Revenue - Steam
Minus 3000* = All 3 months in "Which leaves" added up - 3000
Epic?** = How much Epic should receive?
Left for Company = Revenue - Steam - Epic? = Profit before Expenses/Tax
I look forward to seeing your responses, to finally confirm this up!
Before anyone mentions it, the EPIC AY Royalty relates to the Annual/Yearly payout, added up by the rows in "Q1/Q2/Q3/Q4 Payout" and not the the months added up together. (i.e Q1 = 437.41 + Q2 = 259.44 + Q3 = 174.13 + Q4 = 466.78 = 1337.76)
Thanks,
SR
*As Epic deal with Royalty on a quarterly basis, I thought this was the best way to work out it, if not please let me know.
** Please only look at the Q1/Q2/Q3/Q4 Payout row, the other numbers are there just to work out how much the "Company" would receive in a month