So I made this thing, based on your feedback, decided to submit it to Epic for the Marketplace so you can buy it. Intended price is $19.99
You can watch extended development of and with this asset at http://www.twitch.tv/awesomeallar
Development Trello: Trello
Downloadable Demo: http://www.michaelallar.com/GenericShooterDemo.zip
HIGHLY UNSTABLE HTML5 Demo (Takes awhile to load in Chrome, Firefox is currently only showing a black screen, click OK on any pop up dialogs): GenericShooter
Edit: Now submitted
Edit: Updated demo to v0.2. Update is really a bunch of stuff behind the scenes. Some refactoring, making blueprints cleaner, more capable menu system, and small tidbits no one will notice.
Edit: Added hat support, v0.3
Edit: Added functional server list and v0.6 demo. Submission now under the first review stage by Epic
Edit: Added weapon holstering and switching in v0.65
Edit: Added support for weapon dropping and picking up in v0.7
Edit: Added more robust deathmatch support, grenade launchers, and other general improvements in v0.8
Edit: Added some bug fixes, and a new level, and projectile kill scoring in v0.86
Edit: Packaged release v1.00
Also, sorry in advance for my late night sales pitch voice. And by that, I mean, I sound like I am having a stroke. Maybe I am. Iunno.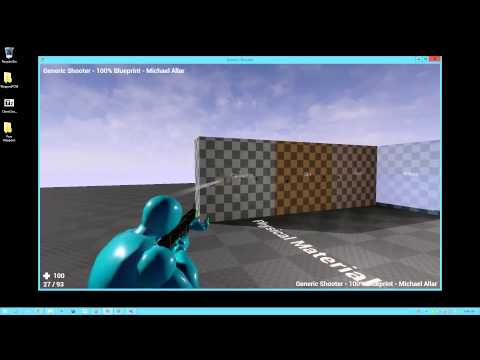 Some pictures because thats a thing: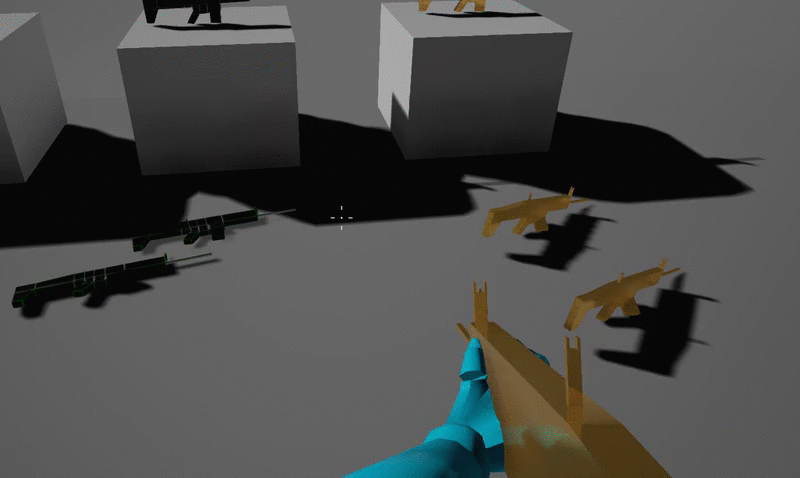 Features:
It's a first person and a third person shooter, with things like a frontend menu, persistent settings, hats, Deathmatch and Team Deathmatch, pistols, rifles, grenade launchers, rocket launchers, shotguns. Yeah.
The point of this asset is the underlying framework, not the art. All the art should be replaced by you, because it looks silly and stupid.
Known Issues:
Sometimes you have to click anywhere in the game viewport at least once for keyboard/gamepad support to work
Development Trello: Trello
Downloadable Demo: http://www.michaelallar.com/GenericShooterDemo.zip
Thanks to all you guys who voted for this!
First 125 votes:
mattp27, adamfacey1, alanconrad1, ormanator, amievil, amitofer1, antimnguyen, andrewleslie, ltwolf, andysechrist, anthonyrivera8, antoniosanchez18, arttur, zomboko, benhale4, benediktengelhard, benjaminstanley2, brunobrito6, cedricneukirchen, charlestonsilverman1, chrisioakeimogloy, christm1, clintonwakefield, madd0k, danelletf, davidherrick, devspark2, dewburninteractive, zeorb, mrdoxies, eduardgelbling, enerion, gbr5, gi_ace, gameperspectives, gavinmills2, giuseppelandolina, hkdeus, hadarsilverman, henrikgoldsack, holdenanderson, holly264, imrooniel, irzipher, jakebaet, thejamsh, jankaluza, jarlanperez, jasonlashley, jealchoi, jeanhan, jeffersonprince, jeremyanderson18, jinghan2, joshtrevisiol, joseismaelcahuanaturpo, julianbrasolin, justin_dooley, keatonvanauken, kenpokiller, kitatusstudios, kylehawkins, luos1, martinbean2, mattstafford, matthewbarcas1, matthewwindley, neomau, melissa750, michaelallar, michaelaudije, malmi, nitecon, oeginc, oscarsullivan, patriciacurtis, paultarr3, pedroamorim2, pennypan1, petebottomley, predragpesic, rasmuspedersen6, robsciender, rommesiqa, rukshana1, shoiko, steffenunger, stephaniemarroquin1, stevenbrown24, stormrage256, stuartgraham1, talus4, teammechanic, terrancemaxwell, tiagoling, mktwo, tomlooman, tomofnz, toxingaming, tughanyalgin, vencinachev, w3studios, waqasiqbal, yannicklange, yohanriou, adamflores2, ayretek, bzysberg, charles200000, davidryckenbusch, dcyoung, djgrave, dwunkypengy, erwilly, evilmrfrank, kodi5, lifeindanger, logansunn, luny2, pichmichael, revolutionart, rforestbaker, shtif, stephenzorn, the_1990