Is there a link Im missing for the update?
Again great work and thanx!
I've ran into a Visual Error with the Experimental Skydome, not sure if you knew about it or not but here's an image: http://postimg.org/image/9abyhca4t/aa67edf9/
Is there a quick fix I can apply?
I'm using the 9/3/2015 update from Git, and UE4 4.9
Oh and Awesome project DotCam and all contributors to it
I love it.
P.S.
As I seem to experiment with this some more, it seems that it's the Cloud Cover Settings, anything Above 1.0 causes that shimmering in the Image.
You have a Mac fix but don't support OpenGL yet?
Anyway, me too I'm looking forward for a Linux version.
THANKS
Wow, i am still impressed how this project moves forward! If you don't mind - i have a question.
Is there any approach on dealing with the transition between the ocean surface and the
underlying water surface using a post process that will blend into the typical dark blue environment?
I know it might work with a box, but would be cool to inherit the oceans displacement.
KhenaB made such a cool translation but i think he used a simple plane inside the ships cabin.
(source: https://forums.unrealengine.com/showthread.php?47316-SubSide-Dev-progress/page5)
GTA V faked it quite good by skipping the part by switching the camera https://www.youtube.com/watch?v=uZ9k3u2giOw,
but i am more looking forward to first person and within the desired smooth effect.
Regardless this, outstanding work! Looking forward to test it in 4.9 - Thank you!
So now Im getting a wierd error in VS
1>------ Build started: Project: TikiGalore, Configuration: Development_Game x64 ------
1> Performing 18 actions (4 in parallel)
1> PCH.OceanPluginPrivatePCH.h.cpp
1>c1xx : fatal error C1083: Cannot open source file: 'S:\Abyss_Development\Get_Golden_Game\TikiGalore\Plugins\OceanPlugin\Intermediate\Build\Win64\TikiGalore\Development\OceanPlugin\PCH.OceanPluginPrivatePCH.h.cpp': No such file or directory
1> -------- End Detailed Actions Stats -----------------------------------------------------------
1>ERROR : UBT error : Failed to produce item: S:\Abyss_Development\Get_Golden_Game\TikiGalore\Plugins\OceanPlugin\Binaries\Win64\TikiGalore-OceanPlugin.lib
1> Total build time: 2.80 seconds
1>C:\Program Files (x86)\MSBuild\Microsoft.Cpp\v4.0\V120\Microsoft.MakeFile.Targets(38,5): error MSB3073: The command "S:\Abyss_Development\UnrealEngine\Engine\Build\BatchFiles\Build.bat TikiGalore Win64 Development "S:\Abyss_Development\Get_Golden_Game\TikiGalore\TikiGalore.uproject"" exited with code -1.
========== Build: 0 succeeded, 1 failed, 3 up-to-date, 0 skipped ==========
and when I try to run it directly it asks to rebuld the plugins dlls and it fails to build
Did you download the latest version posted just a coupledays ago to github by DotCam? The -1 exit code makes me tihnk source code error, weird bugs usually exit with -3. try temporarily removing /plugins/oceanplugin/ and then regenerate project files, and see if a clean rebuild works. Also make sure your games core module is in order spelling etc.
I got it working sorry I totally didnt realize I was just doing a development build and not a development editor build!
As always thanx!
The ocean looks so real I feel like I could touch it, amazing work
Hi All,
Just wanted to thank everyone in this thread and the original authors for their development, contribution, and expert skill producing excellent wave motion and effects, and then sharing that information with others in this community freely. Well I'm new to Unreal4 from Arma3, and was noticing a lack of shared information especially in relation to free assets and weapons etc until I saw this thread. I was also just about to uninstall Unreal4. The idea of a freely made Community Project/GAME (eg a Worldmap) that we can all attribute to sounds like a great idea. I can only image an amazing FPS game like Arma3 on Unreal4 that is visually perfect in all aspects, a lifelong Project that everyone could play and enjoy, make Mods, etc. Even your children could inherit/play. Sharing of profits and contribution should come at the end of the Project rather than peace meal market sharing of selected assets. Food for thought? Anyone interested in such a Large Community Project just let me know.
Cheers Dex
It's "skydome"… I've done everything you've said but with no success. However I was able to use your project as a base for my own. That worked out nicely untily yesterday, when the same issue appeared out of nowhere.

See that the left side reflectsa really bright part of the sky that simply isn't there… I'll try to dig a little deeper after the winery challenge deadline. Back to Epic's lame water for this…


I'll stick to the skydome!
I looked around a bit, but couldn't see how to enable the infinite ocean feature, anyone know?
What new feature is this? It really bugged me when I found out reflection captures were useless with a fully dynamic setup.
Hey DotCam, I'm just curious to know what will be the next thing you will change on the water (or sky or whatever). Continue on this way and have a good day :D!
I just downloaded this and started messing with it a bit.
I'm currently working on adding adaptive tessellation LOD, depth bias wave and undulation height masking (smaller to no waves/undulation at the shoreline) as well as a few other rendering optimizations to the water materials.
I will let you know how it turns out and share with the project manager.
Can't wait to see your improvements CharlestonS!
So I've been trying to get this sweet looking ocean working in my project, and the instructions in the wiki seem simple enough, but I get as far as Step #5: dropping BP_Ocean into my map, and the editor wont let me? If I try to edit BP_Ocean, I get: "Blueprint could not be loaded because it derives from an invalid class. Check to make sure the parent class for this blueprint hasn't been removed!"
The example maps work fine, but I would really rather avoid having to rebuild everything else on top of one of them.
@WormSlayer - do you have the plugin in your plugins folder and everything?
Turns out I managed to misspell "Plugins" when I made the folder, working just fine now thanks XD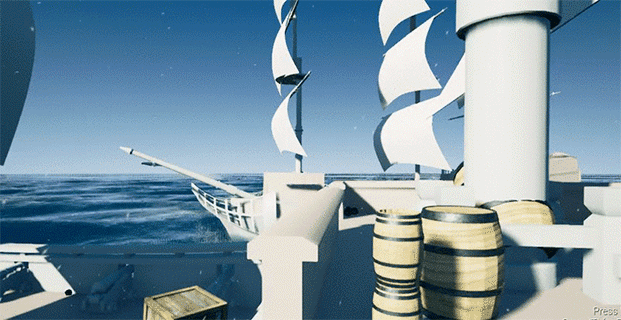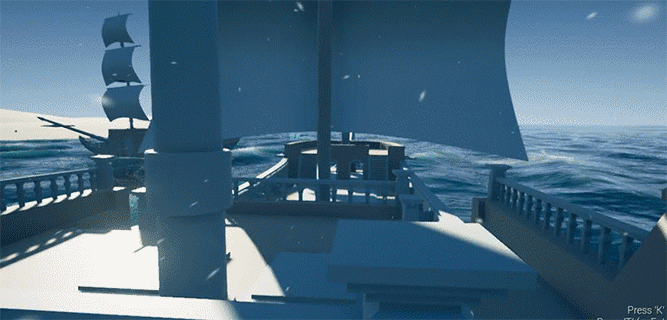 Plugging my own assets into this for Pirates http://www.moddb.com/games/pirates
DotCam, will need to get with you when you're back so we can collaborate on some updates.
I'm sure its just me being stupid again, but I cant seem to get anything to float on my ocean? I've tried dropping in the example boat blueprint, adding test points and set the buoyancy variables as suggested in this thread, and I've copied and pasted the boats from the example maps, but they all just fall through the surface like it isnt there?