Hello Everyone,
Getting ready to release a new product called IwSpline. It's for use with
Epic Games UE4 of course!
Supporting UE4 Versions 4.10 and now 4.11 (April 6, 2016)
Using Triggers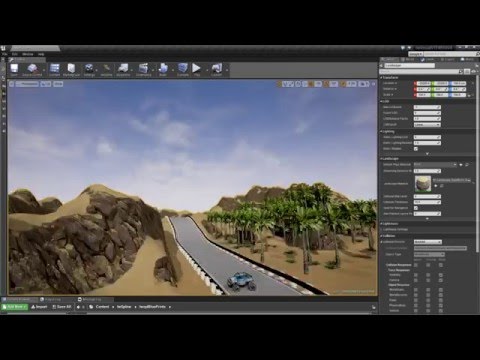 link to video https://www.youtube.com/watch?v=jgKyooM96zA
Building Walls and more on Roads (April 08, 2016)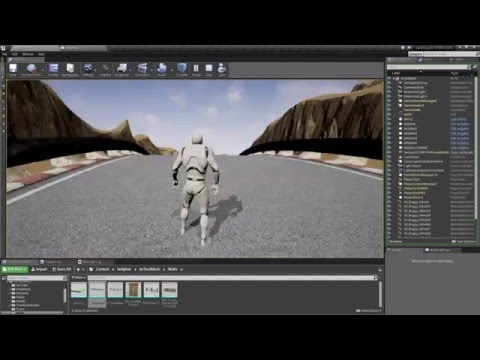 link to video for building Building Walls and more on Roads
https://www.youtube.com/watch?v=e2L4oF5a2Rc
Building Roads (April 7, 2016)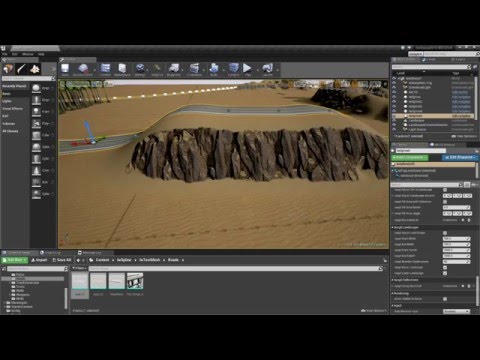 Link to new video for Building Roads
https://www.youtube.com/watch?v=ZlcjlLV5mtk
Showing how to use IwSpline to generate foilage, as well as the new ability to create points
on a spline during the Construction phase of a blueprint
Generating Foilage (April 5, 2016)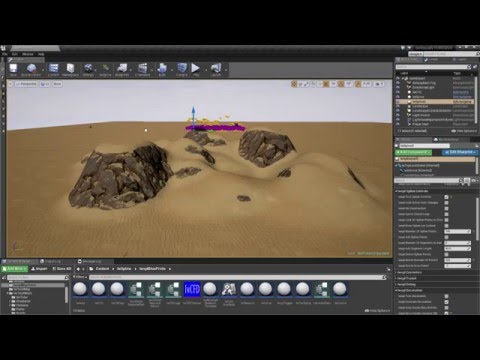 link to new video for Generating Foilage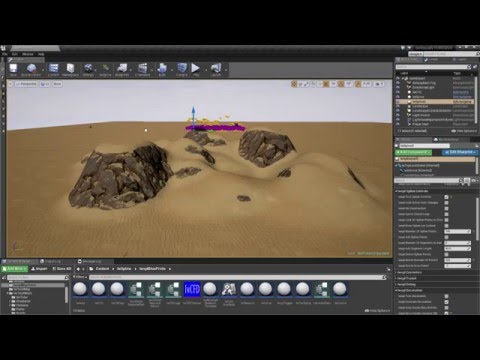 Here is a link to the demo video on YouTube.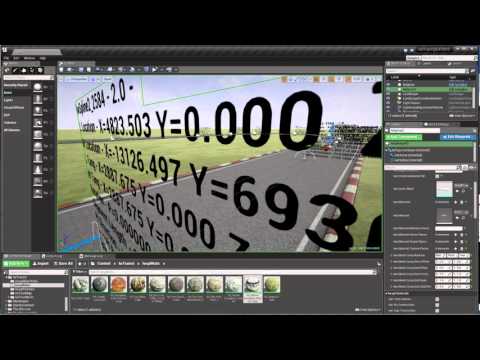 The video is very "rough", in that I'm not a videograhper, but a programmer.
What does it do?
Spline (roads, walls, heck anything)
Creates spline with as many points on the spline as you wish. Placing
static meshes on each segment.

Can place up to 3 meshes per segment of the spline, or a segment can
be skipped as well. So one can set it to have a left and right guardrail
as well as a central "road" perhaps. Anything else you can think of
as well.

Each segment can be set to be the exact size of the static mesh.

Landscape can be adjusted to the spline segments, just click the button.

Spline can be manipulated from controls (i.e. delete spline points, add,
adjust X,Y,Z values for points). This is all done within the editor, and I don't
mean by right clicking a spline point, and using the popup menu.
Transiting
Will move objects on the spline with a speed set for the entire spline,
or each segment may have it's own speed as well.
Decorations (Signs on roads, forests, vegetation, etc)
Decorations are simply more Static Meshes, that can be set. These do not
exist on the "segments" of the spline. Very useful for creating "forests"
or any other vegetation you wish. Perhaps as signs on a road, simply any
mesh you wish. These static meshes can be instanced, simply click a button.
as well.
Static Meshes
Simply drag and drop the static mesh you wish to have on a segment, or
as a Decoration or Collection.
Static Meshes used for Decorations can be instanced, just click a button.
All the Static Meshes for instancing, are shared across all IwSplines in a
level, as they are maintained in a central cache, part of the C++ plugin.
C++ Plugin Blueprint Libaray
This is a blueprint library with well over 70 functions. Some of them are
for convenience, such as setting one dimension of a vector, without altering
the other 2. These really are designed to decrease the number of calls. Such
as with the Add and Set node, where an integer or a float variable, has a value
added to it, and set. Reducing the number of nodes in a blueprint.
Price: 49.95
What's in the package
IwSpline - Main Blueprint
IwCFD - A blueprint that must be in the level, and only one. It's designed
to co-ordinate actions between multiple IwSpline's in a level. Basically
just drop it anywhere in the level, and forget it if you wish.
C++ Plugin: has 70+ blueprint callable functions. The C++ code is not provided.
Supported versions of Epic Games UE - 4.10.x and 4.11.x
Licensing Terms
The Epic Games Marketplace Licensing. But there are 2 caveats.
if the purchasing organization, has over 25 people (seats) using the product,
then bulk licensing must be purchased.
Initial purchase of the product comes with 1 year of support and all upgrades.
After the initial one year, to continue maintenance and all upgrades. There is a
charge of 25% of the then current price. If maintenance is not desired, the
last version sent to the purchaser will still be maintained at no charge, till
the version is sunsetted.
Developed on
Processor: Amd 965 quad core, no overclocking
Memory: 16 GB
Video Card: Nvidia 750 GTX (not a TI)