Hello Mordentral, and fellow VRExpansionPlugin lovers. I have a new update for Espire 1: VR Operative, this time detailing the game's "Control Theatre" VR locomotion system and it's overall concept both of which are explicitly linked!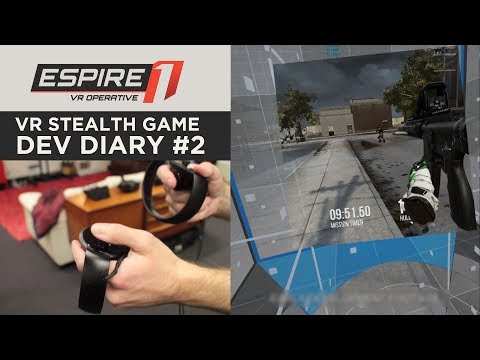 Overall Concept:
Espire 1: VR Operative drafts players as drone operators of the future. Players become "Espire Agents" and use "cutting edge Virtual Reality hardware" to remote-operate the Espire model 1 from the safety of their control theatre. The player will be standing within the Espire control theatre from the moment they launch the Espire 1 executable from their steam game library until the moment they quit.
Locomotion System
This control theatre is the game's key locomotion 'comfort' device. Any time the player performs any sort of artificial locomotion, Espire's world shrinks down to the size of a floating "iPad", with the control theatre visible in the player's peripheral vision.
The aim of this "VR within VR" concept is to:
allow precise freedom of movement (A combination of sliding locomotion, climbing, jumping & tracked physical movement)
minimize VR sickness
maintain immersion.
Hopefully this concept makes it possible to deliver an optimized standing, 180 degrees, or 360 degree roomscale experience with the level of comfort that suits the individual player. They will be able to customize many aspects of the control viewer including it's size, distance from face, "follow speed" and the opacity of the control theatre walls. They can turn it off if they please.
I am a huge fan of sliding locomotion and think it is a good loco method for a stealth game. There is still a lot of work to do for it to effectively minimize VR sickness but with a lot of tweaking, it should work.
I am using many features of the VRExpansionPlugin and it's template VRCharacterPawn - obvious things like the widget lasers, gravity, collision and climbing, but also the VRAIController so the AI Guards correctly target the true location of the player, VRPosition/VRForwardVecotr helper functions and some of the plugin's booleans to detect artificial movement (pawn is colliding with geometry while player physically walks forward).
Thanks again Mordentral for making and releasing such an awesome plugin!