Patch notes for recent work as I take the GunTools live. Video below going over the gun tools grip script as well.
Note that the gun not lerping out of secondary grip in the video wasn't a nativization bug, I had to fix it in the gun tools grip script before taking it live.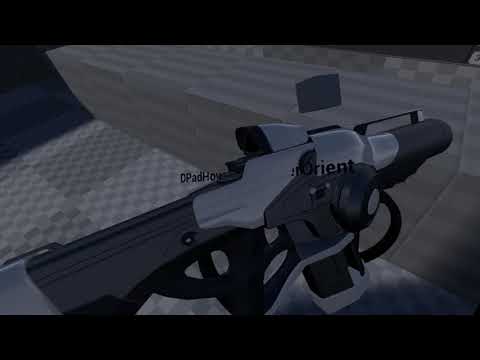 Code:
Many of these changes go for 4.20 and 4.19 versions as well (except for the new gun tools, it is 4.21 only)

Finalized beta version of GunTools Grip Script, supports pivot offsets, recoil instances, virtual mount settings, extended smoothing.

Moved smoothing settings out of default grips and into the gun tools grip script.
This will lower default grip overhead and also let me specifically fine tune
the smoothing for gunplay.

Added "WantsDenyLateUpdates" to grip scripts allowing grip scripts to deny late updates when they don't want them.

Opened up Grip Scripts to be editable per instance again instead of just in defaults.

Added remote grip pivot setting to the motion controllers, allows easier remote gripping and custom operations / mobile VR ease of use.

Fixed it so that attachment grips will now have full use of the late update settings
and features. Also moved the interface late update deny checking to the end of the logic checks
to save some perf on grips that will be denied anyway.

Also fixed it to support Custom pivot component for attachment grips

Move setting collision on to post moving capsule in seated mode
Also use teleport for movement from seated position. Fixes some collision issues exiting a physics vehicle.


Made bDenyGripping defaults visible for all interactibles.
Also made BreakDistance be ignored if value is 0.0f on all interactibles (to match
general grip settings).

Added new DeltaTeleportation, a new teleport type added to help alieviate teleporting with physics simulating skeletal bodies in hand.

Am now filling in the Component Velocity member of the GripMotionControllers.

Added OnStartedTracking and OnEndedTracking events to the motion controllers.

Added prelim OnBeginInteraction and OnEndInteraction events to the button component.
Also added the Interacting Component to the button events as it is useful in itself.

Removed IgnoreActorWhenMoving from grip inits, it was causing overlap spam as the primitive bodies
were not correctly clearing overlap passes.