Hi,
For the needs of a project, I created a code in C ++ that allows me to create a datatable from a button in an Editor Utility Widget.
In fact I created a node in c ++ linked to my Button like this:
After entering a name in the text field and clicking on the create button everything is going well and I have a new folder with my New Datatable inside.
So far everything is going well…
The problem occurs when I delete the datatable ; this one seems to be deleted, but when I leave the folder then I come back in, the datatable is again present !
Here is a video of the process: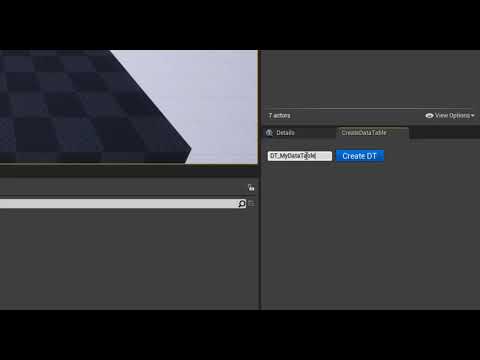 You should know that I am a c ++ noob and that the code I created is the result of extensive research on the internet. So I don't know at all how to correct my problem.
If anyone can help me correct my code, I would be very grateful.

PS : Sorry for my english, hope you will understand me.
Here is my code:
.h
Code:
UCLASS()
class LOCKLEVELCPP_API UCreateDataTable : public UBlueprintFunctionLibrary
{
GENERATED_BODY()

public:

UFUNCTION(BlueprintCallable, Category = "My Nodes", meta = (DisplayName = "Create My Data Table", Keywords = "Create My Data Table"))
static void CreateDataTable(FString Name);
};
.cpp

Code:
void UCreateDataTable::CreateDataTable(FString Name)
{
FString Named = Name;

FString PackageName = TEXT("/Game/DataTableCreated/");
PackageName += Named;
UPackage* Package = CreatePackage(NULL, *PackageName);
Package->FullyLoad();

UDataTable* TestObj = NewObject<UDataTable>(Package, *Named, RF_Standalone | RF_Public | RF_MarkAsRootSet);
TestObj->RowStruct = FDialogStruct::StaticStruct();

TestObj->AddToRoot();
Package->MarkPackageDirty();
FAssetRegistryModule::AssetCreated(TestObj);

FString PackageFileName = FPackageName::LongPackageNameToFilename(PackageName, FPackageName::GetAssetPackageExtension());
bool bSaved = UPackage::SavePackage(Package, TestObj, EObjectFlags::RF_Public | EObjectFlags::RF_Standalone, *PackageFileName, GError, nullptr, true, true, SAVE_NoError);
}