I am working on a tool to add to the marketplace which will allow
players to build their own content in-game by placing parts together
.These creations will then be
saved
and I will add networking features so that the
creations can be shared with other players
.
The developer will be able to set rules for how each part can be used and placed along with setting one of the different placement methods.
Features:
Parts Component - Includes logic for placement/selection - Just drop into any blueprint to allow creation
Master Component - Includes logic that holds the main build together
Pawn - A pawn which will let the user actually build the item (could easily be parented to another type of pawn such as a player character to allow them to build instead)
Resources to Build - Easily customisable for various game types and needs.
Save/Load system- System which stores the players creations and recreates them when the client is loaded back up
Multiplayer - Will be network ready once finished
Example levels:
Spaceship example
Ground vehicle example
Weapon example
Zombie Survival building example
THIRD WIP - With some commentary on where the plugin is up to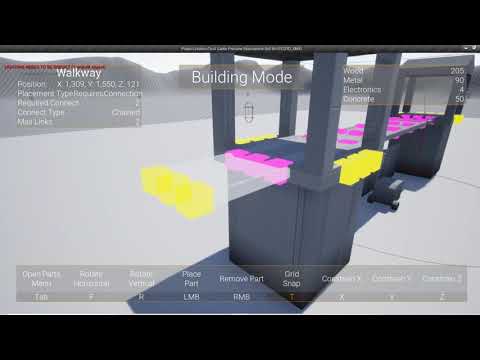 I am interested to see what the community thinks - Any suggestions?