Last updated: 2020/11/21
《Drifting : Weight of Feathers》
Steam -
Steam Page
Itch.IO -
Localization
IndieDB -
Localization
Localization
I haven't had a proper (relaxing) weekend for almost a month! I've attended 2 events and met the person in charge of a localization studio, lots of online discussion and demo building (for QA purpose) occupied nearly half of my regular schedule. I'm starting to feel more than just a game developer - someone who is in charge of a tiny business - and I never thought it has this much preparation work to do for just one product! XD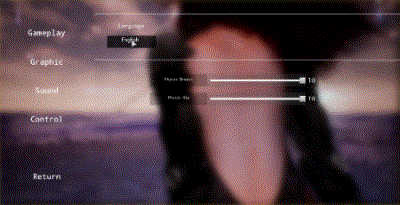 Though I've begun developing the game with multi-language support in mind, I didn't expect the length difference of each language could break my UI layout.
Here is a sample excerpt from my text table, each expressing the same meaning in a different language:
English - to hook onto walls
Chinese - 勾住牆面
Russian - для зацепа крюком за вертикальные препятствия
Japan - で壁に引っ掛ける
French - pour s'accrocher aux murs
German - um dich an Wänden einzuhaken
Depending on the language used, the length difference could amount to 1.5 ~ 2 times longer than the default (English) length.
Granted, I've saved extra space for each text box in case the length of the text becomes a problem under a multi-language environment - the reserved space is simply not enough for this amount of difference.
I discussed this issue with the localization studio and they are kind enough to propose a revision of the translated language. After a brief moment of contemplation, I decided to refactor my tutorial system instead, the reasoning is that
I expected the game to support more than 6 languages upon release, it is probably difficult, yet, the correct way to make the UI adapt to the language and not the other way around.
I spent another 2 days refactoring the UI component of the tutorial system, testing out each language by playing through the demo 5 times, build the localized version of my game, and sent out to the studio for more QA testing.
It is truly a busy month for me, yet, there's still a long way ahead before the game is qualified to get a public release. I wish we, as game developers, all have the strength and will power to endure the challenge in front of us and go through that bittersweet path.
Hope you enjoy this week's update, feel free to share your localization experience, it will be interesting to know how other devs deal with the language difference!
Have a relaxing weekend peko! (;´▽`)y-~~
---
《Drifting : Weight of Feathers》- DCD School Games Brawl Event
Steam -
Steam Page
Itch.IO -
DCD School Games Brawl Event
IndieDB -
DCD School Games Brawl Event
(I recorded footage of one of the playtesters trying out my game for the first time! The video was shot with my crappy phone and scale up the resolution to hide the background. I apologize for hurting your eyes with this low-quality video)
Konpeko!
I wrote an
article
about the interesting findings and observation I've gathered during the
DCD School Games Brawl Event
, I hope you enjoy reading it!!
Have a relaxing weekend peko! :3
---
《Drifting : Weight of Feathers》 Steam Page Is Ready!
Hello everyone,
《Drifting : Weight of Feathers》
now has an official steam page! Visit my steam page today and enjoy the fascinating trailer and images!

Additionally, I'm happy to announce the
《Drifting : Weight of Feathers》
forum section on
IndieDB
is now public! Feel free to share your thoughts on the
General Discussion Board
at any time!
I hope you have a good time browsing my store and forum!
Have a superb weekend! ─=≡Σ((( つ•̀ω•́)つ
---
《Drifting》 - Game Trailer
Itch.IO -
Game Trailer
IndieDB -
Game Trailer
Game Trailer
This game trailer showcased the works I've done over the past year.
Ironically, while I was shooting this video I've found quite a lot of bugs and essential game mechanics I have overlooked during my development cycle - although most of them aren't game-breaking issues - it can easily create an unpleasant experience for players which is the last thing I want from my game.
Before continue working on the final level of 《Drifting》, I've decided to spend 1 or 2 weeks fixing the issues I found during video shooting - issues I have no one else to blame but myself. XD
I wish you enjoy this game trailer, feel free to leave a comment, and share your thoughts!
Have a lovely weekend! (●′∀‵)ノ♡
---
《Drifting》 - Opening Soundtrack
Itch.IO -
Opening Soundtrack
IndieDB -
Opening Soundtrack
Opening Soundtrack
This video reveals a short clip of the opening soundtrack of 《Drifting》.
As a fast-paced, action-oriented game, I wanted to create a contrast between gameplay and game theme - the idea is to provide a place for players to rest and reflect after a series of non-stop action and challenges. This change of pacing allows players to temporarily loosen up their nerves and mentally prepared for whatever challenges ahead of them, much like a campfire in a dark dungeon or a safe house during a zombie outbreak.
I stumbled upon this beautiful piece of music a few months ago and found out its soothing melody and sad tone perfectly complements the theme of the game. The composition of the opening scene and music largely reveals what this game is about (story-wise) and serves as a prologue to the game.
I hope you enjoy the music and wish you have a relaxing weekend! :3
---
The Making of Whale
Itch.IO -
The Making of Whale
I
ndieDB -
The Making of Whale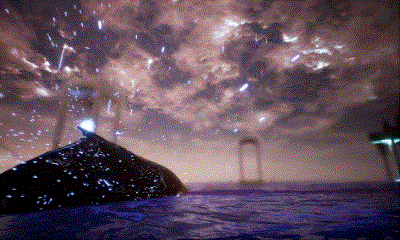 (This beautiful ocean creature is a humpback whale. According to wikipedia, males are able to sing a complex song lasting 10~20 minutes)
Hello everyone!
In this week's update, I wrote an
article
describing the challenges I encountered and the solutions I came up with while making this beautiful ocean creature. I hope you enjoy reading it!
Have a relaxing and wonderful weekend! ヽ(・∀・)ノ
---
Characters in《Drifting》
Brushing Her Hair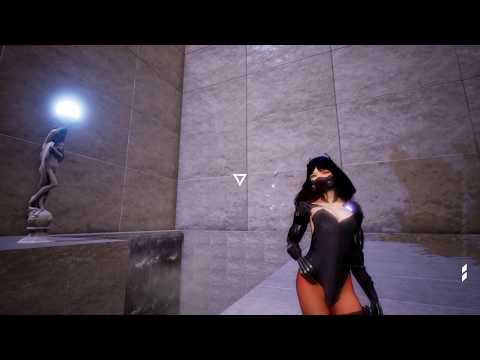 (
noticed the shoulder-long hair do not clip through her upper body; also she briefly brushes her hair at 00:17
)
One of the main features that come with Nvidia Hairworks API is the ability to pre-assign collision meshes for each hairpiece in its exporting pipeline.
Since the protagonist has an over the shoulder hairstyle it is crucial to have a proper collision between her hair and her upper torso and limbs
.
​
To make sure each hairpiece does not clip through her body while performing extreme acrobatic moves, I've spent some time adding the necessary collisions to her upper body. Additionally,
I've also added several small collision spheres on her fingertips, which makes her hair respond to her hand brushing from her forehead through shoulder
while in idle state - a small yet delicate feature I've been planning to add for a long time, now I'm just glad that my yearning is fulfilled.
I hope you enjoy the small clip of her idle animation, wish you have a wonderful weekend! :3
---
Scenery in《Drifting》- Cloud, Thunder and Alien Construction: 2020/02/08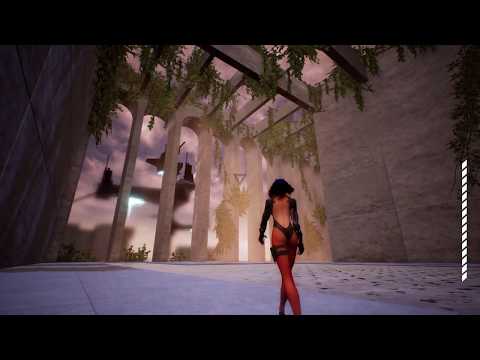 (
please turn on the audio volume to enjoy the most out of this video
)
The game 《Drifting》 has undergone a major graphic overhaul this past week.
The sky sphere color palette was adjusted to make landscape stand out from the scene; lightning and heavy cloud were added to give player a sinister vibe and foreshadow the dark future of the protagonist; the alien construction fallen from the sky indicate an invasion is happening and convey a sense of urgency and drives players to move on to stop a tragedy from happening;
These graphical changes were made not only to provide visual aesthetics but more importantly, to pique players' interest in to know more about the backstory of the game.
I hope you enjoy the video, have a relaxing weekend and stay healthy! =)
---
Release Date: TBA

Genre: Third-Person / Shooter / Action / Parkour

Developer: MYW

Platform: PC
Please feel free to leave a comment or like if you are interested in my game!
(I will send out a PM to you as response =D)