A glimpse of combat in 《Drifting》
Wall Slide System Overhaul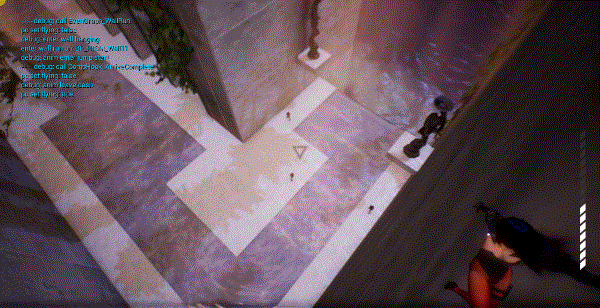 (
noticed a slight time dilation after firing during wall-slide - a mechanic I've added for players to catch his/her breath and plan out his/her next move
)
Due to the game design of 《Drifting》, players may find out they've spent a considerable amount of time on walls or mid-air than on the ground,
the corresponding animations for these traversing methods are what I referred to as a "critical state animation"
. If a player spent more than 5 seconds wall-running every now and then, that means he/she should have the ability to perform all attack / dodge / hook / grab / throw abilities during wall-run -
the idea is to maximize the degree of freedom in terms of what the player can do whilst traverse
.
In the past play-test sessions, I've identified 4 critical state animations in my game:
floor movement, wall-run, dash, and wall-slide
. The integration of the previous 3 critical state animations with supplement animations - although tedious - is not an overly taxing work, connect game logic is all it takes to get the job done.
However, the same cannot be said for wall-sliding. Due to the verticality nature of wall-slide, simply connecting game logic from existing supplement animations is not enough,
nearly 50% of the supplement animations need to be re-make or adjusted in third-party software to compensate wall-slide hand IK and resolve half-part animation blending issue
. As a programmer, I've spent quite some time to learn motion mixer in 3ds Max, and manage to re-make most of the supplement animations to a version that blends well with wall-slide animation.
As of now, all of the (currently identified) critical state animations were integrated with supplement animations, although there are still bugs and blending issues that need to be addressed in the future, I feel a sense of joy knowing I've done my best to provide a versatile and flexible animation systems for players to explore and enjoy in 《Drifting》.
I hope you enjoy this week's update, have a wonderful weekend! =)