Last updated: 2020/02/22
A glimpse of combat in 《Drifting》
Wall Slide System Overhaul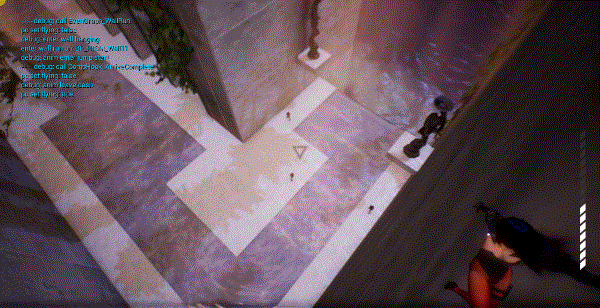 (
noticed a slight time dilation after firing during wall-slide - a mechanic I've added for players to catch his/her breath and plan out his/her next move
)
Due to the game design of 《Drifting》, players may find out they've spent a considerable amount of time on walls or mid-air than on the ground,
the corresponding animations for these traversing methods are what I referred to as a "critical state animation"
. If a player spent more than 5 seconds wall-running every now and then, that means he/she should have the ability to perform all attack / dodge / hook / grab / throw abilities during wall-run -
the idea is to maximize the degree of freedom in terms of what the player can do whilst traverse
.
In the past play-test sessions, I've identified 4 critical state animations in my game:
floor movement, wall-run, dash, and wall-slide
. The integration of the previous 3 critical state animations with supplement animations - although tedious - is not an overly taxing work, connect game logic is all it takes to get the job done.
However, the same cannot be said for wall-sliding. Due to the verticality nature of wall-slide, simply connecting game logic from existing supplement animations is not enough,
nearly 50% of the supplement animations need to be re-make or adjusted in third-party software to compensate wall-slide hand IK and resolve half-part animation blending issue
. As a programmer, I've spent quite some time to learn motion mixer in 3ds Max, and manage to re-make most of the supplement animations to a version that blends well with wall-slide animation.
As of now, all of the (currently identified) critical state animations were integrated with supplement animations, although there are still bugs and blending issues that need to be addressed in the future, I feel a sense of joy knowing I've done my best to provide a versatile and flexible animation systems for players to explore and enjoy in 《Drifting》.
I hope you enjoy this week's update, have a wonderful weekend! =)
---
Scenery in《Drifting》- Cloud, Thunder and Alien Construction: 2020/02/08
(
please turn on the audio volume to enjoy the most out of this video
)
The game 《Drifting》 has undergone a major graphic overhaul this past week.
The sky sphere color palette was adjusted to make landscape stand out from the scene; lightning and heavy cloud were added to give player a sinister vibe and foreshadow the dark future of the protagonist; the alien construction fallen from the sky indicate an invasion is happening and convey a sense of urgency and drives players to move on to stop a tragedy from happening;
These graphical changes were made not only to provide visual aesthetics but more importantly, to pique players' interest in to know more about the backstory of the game.
I hope you enjoy the video, have a relaxing weekend and stay healthy! =)
---
《Drifting》 - Speedrun Gameplay Released: 2020/01/22
A few weeks ago, I decided to make a timer countdown for the upcoming TpGS2020 exhibition - a small contest that encourages players to pass the stage within the time restriction and win a small prize.
During the implementation of the timer system, I found out the game becomes much more fun and meaningful (gameplay-wise) with it, so I added a leaderboard system to rank the player's performance and document the date he/she reaches a new record; I also added a comment section in case the player wanted to describe the strategy he/she uses during a particular speedrun session.
Seeing how the newly added timer and leaderboard system increases a sense of participation among players, I am planning to expand and explore the potential of speedrunning for my game 《Drifting》.
I hope you enjoy watching this speedrun video and I wish you a wonderful weekend! :3
Edit - 2020/01/22
I upload a new speedrun video which IMO is a much smoother and better run, enjoy!
---
《Drifting》New Combat Gameplay Released: 2019/11/02
Hi everyone!
In this gameplay footage, I intentionally perform some moves I've added since the last combat video update: vertical wall run, vertical wall slide, forward throwing while wall running; The new directional throw animations are also shown to make a big difference in terms of player control feedback and visual appeal.
Various visual effects are added into the game: post-process blur, bullet scorch mark, the energy flow on her right arm, animation trail...etc.
Overall, this combat video concludes all the controls and visual improvements made during the last six months.
I hope you enjoy watching it, and I wish you a wonderful weekend! :3
---
《Drifting》New Combat Gameplay Released: 2019/05/18
Hi everyone!
In this week's update, I am glad to show you the latest combat video of
《Drifting》
.
In the new gameplay footage, you'll find out the combat is much
more intense, fast-paced and strategically more demanding
. Energy beams and explosive missiles intertwined creating a hazardous area in 3D space, players not only need to dodge these attacks in air, but also keep on
solving the environment puzzle
that blocks his/her path to the next level.
Enjoy this week's update and have a wonderful weekend! :3
Release Date: TBA

Genre: Third-Person / Shooter / Action / Parkour

Developer: MYW

Platform: PC
Please feel free to leave a comment or like if you are interested in my game!
(I will send out a PM to you as response =D)