Last updated: 2019/12/07
Physics in《Drifting》
Kawaii Physics Plug-in
Integration
Physic simulation plays a critical part in fast-paced games, the outcome of the physics engine needs to be stable and efficient and more importantly, provide comparable results under different framerates.
In the past, I've been struggling with UE4's physic engine, mainly because the protagonist traverse in such a high speed (up to 4500uu per second), the UE4 physics engine simply could not provide reliable result under this circumstance (mesh stretching and/or twitching occasionally appears); to make matter worse, there are noticeable discrepancies between PIE and shipping build simulation result, which makes it harder for me to adjust physic parameters accordingly.
The only choice for me was to turn on physic-substepping and remedy the stretching issue as best as I can (Max Substep Delta Time = 0.003, Max Substeps = 3 ) and pay the price of CPU overhead. However, even then, the outcome is still not stable enough. Additionally, enable substepping causes the CPU to become the bottleneck on lower-end machines and since
APEX destruction is not fully supported
with substepping (random crashes occur correlated with smaller substep delta time) I have to pre-destruct all of the destructible meshes in third-party software and abandon APEX destruction altogether.
A few months ago, I accidentally found out this
Kawaii Physics plug-in
and the video demonstration looks solid enough for me to consider using it for my project. Although the plug-in was built for UE4.20, I was able to integrate it into UE4.16 without too much effort.
The plug-in is just as powerful as the author demonstrated, in terms of ease of use, iteration time, performance gain, the plug-in simply solves all of the issues I struggled with previously, additionally, I found no noticeable discrepancies between PIE and packaged build, which is a big relief for me.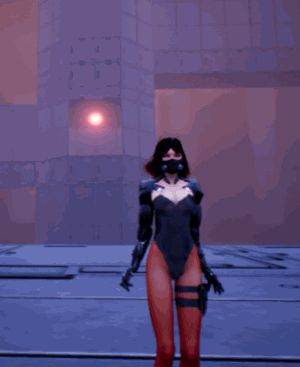 Here is a big
THANK YOU
to the kawaii physics plug-in author
pafuhana1213
, and I hope you enjoy this week's update! :3
---
《Drifting》New Combat Gameplay Released: 2019/11/02
Hi everyone!
In this gameplay footage, I intentionally perform some moves I've added since the last combat video update: vertical wall run, vertical wall slide, forward throwing while wall running; The new directional throw animations are also shown to make a big difference in terms of player control feedback and visual appeal.
Various visual effects are added into the game: post-process blur, bullet scorch mark, the energy flow on her right arm, animation trail...etc.
Overall, this combat video concludes all the controls and visual improvements made during the last six months.
I hope you enjoy watching it, and I wish you a wonderful weekend! :3
---
《Drifting》New Combat Gameplay Released: 2019/05/18
Hi everyone!
In this week's update, I am glad to show you the latest combat video of
《Drifting》
.
In the new gameplay footage, you'll find out the combat is much
more intense, fast-paced and strategically more demanding
. Energy beams and explosive missiles intertwined creating a hazardous area in 3D space, players not only need to dodge these attacks in air, but also keep on
solving the environment puzzle
that blocks his/her path to the next level.
Enjoy this week's update and have a wonderful weekend! :3
Release Date: TBA

Genre: Third-Person / Shooter / Action / Parkour

Developer: MYW

Platform: PC
Please feel free to leave a comment or like if you are interested in my game!
(I will send out a PM to you as response =D)