Last updated: 2019/12/13
Scenery in《Drifting》
Arsenal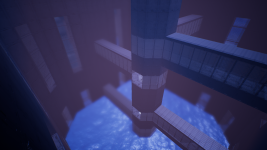 (
Click the image for higher resolution
)
In the world of 《Drifting》 I designed each level with two purposes in mind: the first and obvious one, is to provide a mechanically fun experience to players; the second one, is to support the underlying theme with a coherent background. Although the plot function of each level does not reveal to the player explicitly, it is hinted at with minor changes to the structure of the level or specific objects placed in the level.
In this scenery, the idea is to provide an explanation for where the enemy's weapon and armory came from. The player not only will walk through the assembly line and uncover hidden events behind it, but he/she will also be asked to transfer a set of missiles to a designated location, thus, blending the (implicit) storytelling and game mechanics together.
I hope you enjoy this week's update, have a great weekend! (ノ°∀°)ノ
---
《Drifting》New Combat Gameplay Released: 2019/11/02
Hi everyone!
In this gameplay footage, I intentionally perform some moves I've added since the last combat video update: vertical wall run, vertical wall slide, forward throwing while wall running; The new directional throw animations are also shown to make a big difference in terms of player control feedback and visual appeal.
Various visual effects are added into the game: post-process blur, bullet scorch mark, the energy flow on her right arm, animation trail...etc.
Overall, this combat video concludes all the controls and visual improvements made during the last six months.
I hope you enjoy watching it, and I wish you a wonderful weekend! :3
---
《Drifting》New Combat Gameplay Released: 2019/05/18
Hi everyone!
In this week's update, I am glad to show you the latest combat video of
《Drifting》
.
In the new gameplay footage, you'll find out the combat is much
more intense, fast-paced and strategically more demanding
. Energy beams and explosive missiles intertwined creating a hazardous area in 3D space, players not only need to dodge these attacks in air, but also keep on
solving the environment puzzle
that blocks his/her path to the next level.
Enjoy this week's update and have a wonderful weekend! :3
Release Date: TBA

Genre: Third-Person / Shooter / Action / Parkour

Developer: MYW

Platform: PC
Please feel free to leave a comment or like if you are interested in my game!
(I will send out a PM to you as response =D)