Last updated: 2019/09/21
A glimpse of combat in 《Drifting》
Dash FX Revised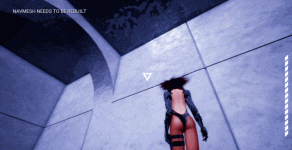 If you watch the previous videos or images of 《Drifting》 closely, you'll notice the ghost replicate of the protagonist has polygon hair instead of tessellated hair, an issue that bothers me for quite a while.
A few weeks ago, I manage to work around the visibility issue of the hairworks component and after some performance optimization, the game can now render 24 additional hairworks components in the same scene with a smooth fade in and out feature.
Have a relaxing weekend! >.0
---
《Drifting》New Combat Gameplay Released: 2019/05/18
Hi everyone!
In this week's update, I am glad to show you the latest combat video of
《Drifting》
.
In the new gameplay footage, you'll find out the combat is much
more intense, fast-paced and strategically more demanding
. Energy beams and explosive missiles intertwined creating a hazardous area in 3D space, players not only need to dodge these attacks in air, but also keep on
solving the environment puzzle
that blocks his/her path to the next level.
Enjoy this week's update and have a wonderful weekend! :3
Release Date: TBA

Genre: Third-Person / Shooter / Action / Parkour

Developer: MYW

Platform: PC
Please feel free to leave a comment or like if you are interested in my game!
(I will send out a PM to you as response =D)