Last updated: 2019/10/22
Bad News
Hi everyone,
My laptop broke down yesterday (it will randomly shut down after using it for a few minutes) and I sent it to repair.
According to the repair center, it will take around 5~8 working days to fix it.
I just backup my project 2 days ago before the malfunction happens, so no harm was done to the project.
I'm planning to buy a tabletop this week as my new development machine but even then, I still need 1~2 days to set up the working environment, which means it is unlikely for me to meet the weekly update schedule.
This is a reminder that
the weekly update from 10/26~10/27 will be canceled; the new combat video will also be postponed for a week
.
I apologize for the delay.
---
Last updated: 2019/10/19
Scenery in《Drifting》
Post Process Radial Blur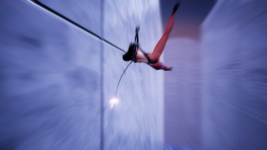 (
Click the image for higher resolution
)
In the past two weeks a lot of visual elements have been added or improved in the game, ie: character mesh smoothness, animation trail particles, ribbon particles, impact decals (simulating scorched bullet mark), post-process effects...etc, radial blur is one of the many visual effects that improve the gameplay experience.
In the following updates I will be posting a new combat video to showcase all of these visual improvements, so stay tuned for the upcoming content in the future! =)
---
《Drifting》New Combat Gameplay Released: 2019/05/18
Hi everyone!
In this week's update, I am glad to show you the latest combat video of
《Drifting》
.
In the new gameplay footage, you'll find out the combat is much
more intense, fast-paced and strategically more demanding
. Energy beams and explosive missiles intertwined creating a hazardous area in 3D space, players not only need to dodge these attacks in air, but also keep on
solving the environment puzzle
that blocks his/her path to the next level.
Enjoy this week's update and have a wonderful weekend! :3
Release Date: TBA

Genre: Third-Person / Shooter / Action / Parkour

Developer: MYW

Platform: PC
Please feel free to leave a comment or like if you are interested in my game!
(I will send out a PM to you as response =D)