Hi all,
I'm Matt from
Volumes of Fun
, a hobbyist software studio based in Europe. We're probably best known for the open-source C++ voxel management library,
PolyVox
which is available for commercial use by all for free.
On top of PolyVox, we also develop and sell Cubiquity, a 3D engine integration layer. So far, most of our work has been focused on
Cubiquity for Unity 3D
but we've been fans of Unreal Engine for a long time (since the first game) and so we are now actively working towards getting
Cubiquity for UE4
off the ground. For the Unity3D version we provide a completely free version for non-commercial use and a $200 license for use in commercial products. I imagine we will have similar terms for the UE4 version but this is not set in stone yet.
The UE4 plugin is still in early development but can already import Cubiquity VDB files, render smooth terrain with blended tri-planar texturing and create correct physics meshes. Here's a few screenshots of what's running at the moment:
Terrain as it appears in the editor
The wireframe generated by Cubiquity
Showing it in game mode with a 3rd-person actor
Next, I'm planning on getting live editing of the terrain working (both in edit mode and play mode) which will all be exposed through blueprints.
By the first release we plan to have feature parity with the Unity3D version and so Cubiquity will provide:
Support for both smooth terrain and colored cubes type environments (video examples from Unity3D).
Support for multiple volumes which can exist in transform hierarchies.
Unique material blending algorithm on smooth terrain.
Direct voxel access for implementing procedural generation.
Update September 2014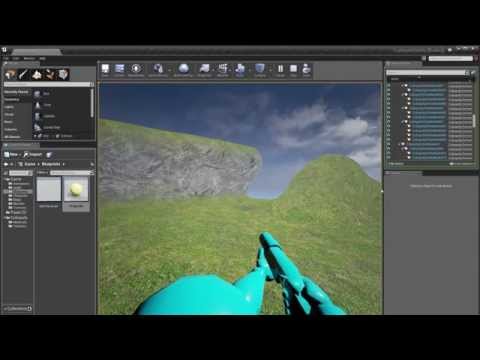 Update January 2015
First demonstration of large coloured cubes data being loaded into Cubiquity. Voxel data from
Ki11aWi11
.
A view showing a chunk of the map from the top of one of the buildings.
Raining down destruction on the ground below.
Everything in the map can be destroyed and interacts properly with the physics engine.
Update February 2015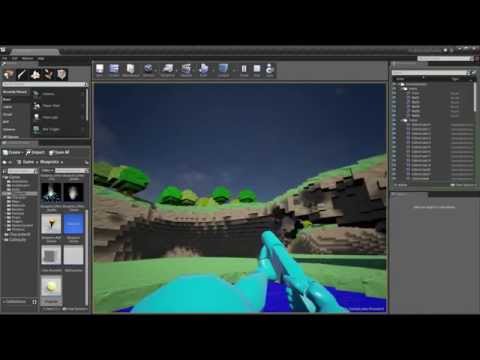 If you want to follow our progress, I will be posting updates in this thread as well as at our usual places:
If anyone has any questions, I'd be happy to answer them.